Fighting Norway Oil Addiction With Tax Cuts a Vote Winner
Saleha Mohsin and Mikael Holter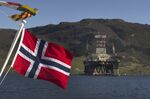 Norway's opposition, poised to oust the Labor Party-led government in elections next week, is promising an antidote to help wean the nation off its oil addiction.
Conservative Party leader Erna Solberg, who polls signal will become prime minister after the Sept. 9 election, says Norway needs tax cuts to help other industries end the oil sector's growing dominance.
Norway "needs to have focus on higher productivity and making the Norwegian economy and Norwegian jobs more robust by having more legs to stand on," Jan Tore Sanner, the party's finance spokesman, said in an interview. Fiscal policy needs to focus on investment in education, research, infrastructure and tax relief that will spur growth, he said.
Solberg's opposition bloc, which includes the Progress Party, has been hammering the government for not doing enough to help corners of the economy that aren't involved in the energy industry as oil wealth pushes up costs. Norwegian manufacturing wages are about 70 percent higher than the average in the European Union, while investments in oil production and fuel transport have grown to 29 percent of all investments in the country, from about 21 percent in 2007.
Crude and natural gas accounted for 41 percent of exports in the second quarter.
Krone Effect
The growing dominance of oil and gas has raised concern the economy risks splitting in two. Companies such as papermaker Norske Skogindustrier ASA have been hit by a surge in the currency, which emerged as a haven during Europe's debt crisis, pushing up the cost of the nation's non-oil exports. The krone is up 21 percent against the euro and 15 percent against the dollar since the end of 2008.
"The cost level in Norway is outpacing the increase in productivity and that's reducing competitiveness," said Tore Ulstein, president of the Confederation of Norwegian Enterprise, or NHO, the country's main business group, in an interview. "That's something that we have to work hard on."
While Norway has used its oil wealth to avoid the recession that gripped Europe and even hit its Nordic neighbors, the country is now failing to keep pace with recoveries in other developed markets. The $500 billion economy grew just 0.2 percent in the second quarter. Norway's biggest bank, DNB ASA, says it will be the only European nation of the 15 it tracks whose economic growth won't accelerate next year. It's still expected to outperform the rest of Europe.
Wealth Tax
Norway struck oil more than 40 years ago and in 1996 started funneling revenue into a sovereign wealth fund, which has since become the world's largest, valued at $750 billion. The country invests that money abroad to avoid stoking inflation, and has set a limit of tapping its oil wealth to 4 percent of the fund's value. Still, that amount grows every year as the fund balloons in size. It's estimated to grow a further 50 percent by 2020.
A rise in oil prices and oil activity together explain 35 percent of the growth in Norway's mainland economy, according to a study from the Norwegian School of Management published in newspaper Dagens Naeringsliv today. Wage growth in the oil sector provides significant spillover effects on the rest of the economy, according to the study by Professor Hilde Bjoernland and Leif Anders Thorsrud.
More Conservative
The opposition, backed by businesses, says one way to help non-oil businesses would be to cut the nation's wealth tax, especially on working capital, because it's hindering small business from growing.
According to Ulstein, who's also chairman of shipbuilder Ulstein Group ASA, taxes have become so high that many owners have to sell their businesses in order to finance payments.
"Independently of business type, ownership has strengthened through more conservative or right-wing parties," he said. "One of the big issues as owners we see in Norway is the wealth tax, which is not stimulating ownership, and is especially tough for entrepreneurs and early-starters."
The Conservatives have proposed cutting the wealth tax to 0.5 percent from 1.1 percent and raising the threshold to 25 million kroner ($4.1 million) from 870,000 kroner. The proposal will eliminate wealth taxes for 99 percent of those that pay the levy, the Conservatives said. The Progress Party is seeking to raise the limit to 30 million kroner.
The Conservatives are campaigning with partners the Progress Party, the Christian Democrats and the Liberal Party. While the exact composition of a government is unclear, that bloc will win 98 seats in parliament, versus 70 for Prime Minister Jens Stoltenberg's government, according a weighted average of 23 polls as of Sept. 3 by the website Pollofpolls.no.
'Very Richest'
Stoltenberg has said the election is about choices, about whether billions should be spent on cutting taxes for the "very richest" or whether that money is used for schools and health care.
Norway's labor unions see it as disingenuous to attack the very strength and the source of Norway's wealth.
Politicians shouldn't worry about being reliant on what is successful, said Stein Reegaard, chief economist at the Norwegian Confederation of Trade Unions, which has about 880,000 members and is the largest backer of the Labor Party.
"I wonder if they find it more favorable to be in the IT industry, like Nokia and Ericsson, which are struggling with falling prices and have other very big problems," Reegaard said Aug. 27 by phone. "I don't think it's very wise to complain about having successful businesses."
Before it's here, it's on the Bloomberg Terminal.
LEARN MORE