Ducati $13,295 Hyperstrada Beats Superbikes on City Roads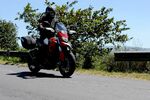 The Ducati Hyperstrada is the kind of bike that makes even difficult roads look easy.
The $13,295 motorcycle is being shown to journalists in Bali, Indonesia, amid a bewildering jumble of cars and trucks, while scooter riders dart from side alleys without looking and packs of schoolchildren spill off the pavement.
For owners of high-end Italian motorcycles, life in the urban sprawl is often arduous.
Struggling through six lanes of Asian traffic in 90 percent humidity on top of a big V-twin -- the clutch hand burning with pain as you coax an engine that lugs grumpily at low speeds -- is even less fun than it looks. Now there is an alternative.
On paper, the Hyperstrada sounds a bit of a joke. Perhaps a German joke, given Audi AG's recent purchase of Ducati Motor Holding SpA. Taking its infamously thrill-seeking Hypermotard model (which was basically a turbo-charged fold-up bicycle), adding a few practical accessories and calling the result a Touring Motorcycle seemed like the most fanciful kind of marketing guff.
And it would be, if it weren't for several things. First is the superb new 821cc, liquid-cooled motor that's tamed the old Hypermotard's wilder impulses and learned to behave itself across the entire rev range.
The 2013 Multistrada aside, it's perhaps the first Ducati engine that's a breeze to manage through heavy traffic.
Trademark Growl
The clutch is light and the motor is refined and smooth at low speeds without sacrificing any of the trademark Ducati growl or the kind of punchy throttle response necessary for squirting out of trouble. Extremely light and agile, it makes light work of heavy weaving.
Of course, with 110 horsepower at your wrist, there's plenty of room to squirt into trouble as well, especially when every breed of vehicle and farmyard animal is lurking along the road to give you nasty surprises.
A comprehensive safety package, featuring anti-lock brakes and an eight-stage traction control system, should be enough to save all but the most lunatic rider from disaster.
The anarchic streets of Denpasar, the main city, test the Hyperstrada's urban credentials to the full. Of the bike's three electronically adjustable engine maps, the gentler Urban mode made the work of threading through the chaos relatively simple.
Up into the hills, Touring mode eats up clear stretches of rural road in a blur of acceleration, while the Brembo monobloc front brake scrubbed off speed quickly at blind corners.
All-Rounder
The touring accessories that are meant to transform this bike from a hooligan's weekend toy into a seven-day all-rounder are mostly more than just baubles. The seat is lower, wider and more sculpted, with grab rails for passengers.
There's a higher screen, two 12-volt sockets for GPS units, mobile phones or heated clothing, a center stand and most importantly of all two 25-liter panniers as standard, with a top box as optional.
Even with all these modifications and extras, the Hyperstrada isn't a full-fledged tourer. For the rider planning long journeys, a bigger adventure bike or sports tourer would be better. This is a lightweight supermoto with an upright, aggressive riding position and minimal weather protection.
Where it does excel is in straddling the border between unadulterated fun and practicality in a way few bikes manage.
Big bike sales are taking off in Asia, making up about 10 percent of global sales from less than 1 percent a decade ago, according to Ducati. It has followed Kawasaki and Honda setting up assembly plants in Thailand. Triumph may soon follow.
Thai customers have been swallowing Kawasaki's Thai-made 600cc ER6-n as fast as the plant can make them. Sales of Ducatis in Thailand have gone from almost zero five years ago to more than 2,000 this year. European and U.S. luxury makers are waking up to big opportunities in the region. With the Hyperstrada, Ducati might just have its perfect bike for Asia at least.
Ducati Hyperstrada at a Glance
Engine: 821cc liquid-cooled V-twin with 110 horsepower and 65.8 pound-feet of torque.
Transmission: Six-speed manual.
Price: $13,295 (U.S. price)
Best feature: User-friendly engine that delivers at all speeds.
Worst feature: Question marks over pannier strength.
Target buyer: Daily urban rider who likes to take short getaways out of town.
(Matthew Oakley writes for Bloomberg News. The opinions expressed are his own.)
Muse highlights include Richard Vines on food, Rich Jaroslovsky on technology, Lance Esplund on U.S. art and Amanda Gordon's Scene Last Night.
Before it's here, it's on the Bloomberg Terminal.
LEARN MORE