Why Nokia Is Down and Out in China and India
by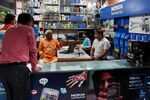 Nokia's fall has been particularly brutal in Asia. The mobile-phone maker that Microsoft wants to buy for $7.17 billion once ruled China and India, but the Finnish company has suffered dizzying declines. Nokia no longer even ranks among China's top 10 smartphone brands, says Melissa Chau, Singapore-based analyst with IDC. With a market share of less than 1 percent, Nokia just disappears into a group of anonymous others. "I can't even give you a number," Chau says.
In India, things are bad but not quite so grim. Nokia lost further share in the second quarter of this year, falling to just 5 percent of the smartphone market, from 5.9 percent in the previous quarter. That puts the company well behind Samsung and local brand Micromax, both with more than 20 percent. At least Nokia managed to hold on to its No. 4 ranking, enjoying some success with its Lumia handsets.
Nokia has suffered in Asia because of the popularity of Samsung and Apple on the high end of the smartphone market and the growth of local brands in the middle and lower tiers. Those cheaper rivals include such well-established companies as Huawei, ZTE, and Lenovo, as well as newer Chinese brands like Coolpad and Xiaomi, the startup that hit the headlines last week by hiring Hugo Barra, formerly a top Android executive at Google. In India, meanwhile, Micromax and other local brands such as Karbonn offer smartphones for less than $70.
Nokia's Chinese and Indian weaknesses could present major problems to Microsoft as it tries to turn around the phone maker's fortunes. Nokia does manage to sell lots of low-cost feature phones in Asia, but that's a shrinking market; consumers are giving up on those handsets for inexpensive smartphones. It's now easy to find phones for less than $100 in India, and in China there are even sub-$50 smartphones.
Those low prices are helping make China and India the world's fastest-growing smartphone markets. Shipments in India reached 20.5 million in 2012 and will grow to 34.7 million this year, according to a report last month from Sanford C. Bernstein, citing data from Strategy Analytics. India's market will reach 85 million by 2016—a compounded annual growth rate of 43 percent, the highest in the developing world. China will have a smaller growth rate of 21 percent in the same period but the market volume will be much greater, with over 600 million shipments. The U.S. and other developed markets will show growth of just 5 percent.
The outlook in Asia isn't all grim. Sure, Nokia has lost the two biggest prizes, but it's still in the game in some smaller countries. In Vietnam, Nokia is No. 2 behind Samsung, with 15 percent of the smartphone market. In Thailand, the Finns are No. 3 with 13 percent, behind Samsung and Apple.
In part, explains Chau, that's because the Nokia brand "has surprisingly still held on" in those countries. While there are local brands in Vietnam and Thailand, they're not as strong as those found in the bigger markets. As a result, says Chau, "Nokia has been able to deliver a pretty good user experience, compared to the low-cost, almost no-name brands." While the quality of those local brands is uneven, with a Nokia "everything works, basically," she adds. "In that kind of space, they have been able to carve out a niche in some markets."
Building a business on such mid-sized markets as Vietnam and Thailand is probably not quite what Microsoft execs have in mind. To give Nokia a boost in China and India, they might want to eliminate the royalty fee that Nokia pays for Windows. Doing that could help reduce the price of a Nokia by about $10, says Chau. That won't get Nokia's cost as low as its local competitors. But selling smartphones in Asia "is pretty cut-throat," she says, "and every bit counts."
Before it's here, it's on the Bloomberg Terminal.
LEARN MORE