Colao Cut Verizon Deal in Talks From Tanzania to California
Matthew Campbell, Aaron Kirchfeld and Jeffrey McCracken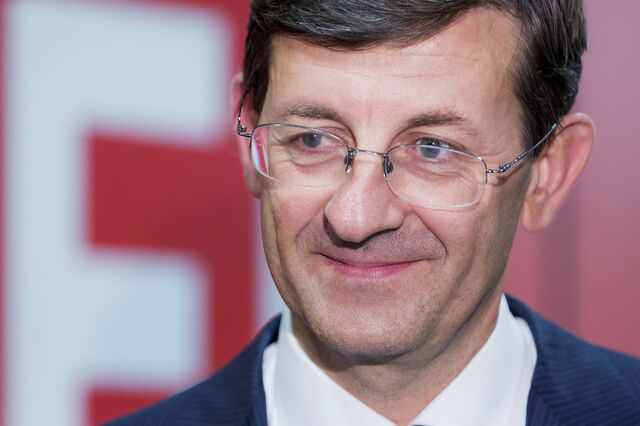 While on safari in Tanzania last month, tracking the usual assortment of giraffes, zebras and lions, Vodafone Group Plc Chief Executive Officer Vittorio Colao had to stop for calls and e-mails on one of the biggest corporate transactions on record.
As it happens, the deal was codenamed Project Eagle.
In a few weeks in August, a decade-long effort to resolve the relationship between Vodafone and Verizon Communications Inc. came together, according to people familiar with the matter. Both sides found reasons to pull the trigger on the $130 billion sale of Vodafone's 45 percent stake in the largest U.S. wireless operator, the people said, asking not to be identified discussing private deliberations.
As big as the deal is, the companies had last year seriously considered an even more momentous idea -- an outright merger, said Verizon CEO Lowell McAdam in an interview yesterday.
"We worked pretty hard through the fall to make a merger, but by the first quarter we were in the position where the best solution for our shareholders was a breakup," McAdam, 59, said.
Deal Push
Vodafone could use the sale proceeds "to retool Europe," McAdam said, while "we looked around and decided 'where could you go out and buy a business that has no integration risk, that has a great path in front of it for additional growth, that has 50 percent margins?'"
After concluding a merger wasn't best, McAdam and his advisers pushed Vodafone for a deal for the stake repeatedly this year, the people said. Bloomberg News reported in March that Verizon was eager to take over the wireless unit this year.
The British company resisted until mid-summer, when Verizon proposed two options: an all-cash offer of up to $125 billion, or a mix of cash and shares worth $130 billion, said one of the people.
Colao felt the latter figure reflected the value of the stake, allowing negotiations to begin in earnest, the people said.
Four Seasons
Meanwhile, another big telecommunications company -- AT&T Inc. -- started sniffing around the talks, according to a person familiar with the deal. The Dallas-based firm called both Verizon and Vodafone to explore the possibility of a transaction that might allow it to expand in Europe, said the person, who asked not to be identified. The two companies rebuffed the overture.
Brad Burns, an AT&T spokesman, declined to comment.
After a series of talks this year, Verizon executives made the $130 billion offer to buy the stake in an August meeting at San Francisco's Four Seasons hotel, one of the people said.
That left advisers from firms including Goldman Sachs Group Inc., UBS AG and Guggenheim Partners LLC scrambling through the month to sort out the details of tax payments, debt financing, and deal structure in a series of meetings at locations including the New York offices of law firm Wachtell, Lipton, Rosen & Katz LLP and over transatlantic conference calls, they said.
A phone call between Colao and McAdam this past weekend sealed the agreement, two of the people said.
The deal will give Verizon full control of its main asset ahead of an expected challenge from Sprint Corp. For Vodafone, it will mean a cash windfall that could fuel future acquisitions of cable companies or emerging-market mobile operators.
Easy Financing
Verizon's ability to finance such a large offer -- which compared with an earlier willingness to pay about $100 billion, according to one of the people -- was boosted by buoyant financing markets. Apple Inc. and Comcast Corp. are among U.S. companies that have recently gone to the credit markets to take advantage of some of the lowest borrowing costs on record.
McAdam and advisers met with rating companies in early July to ensure their proposed structure wouldn't result in a downgrade of more than one level to Verizon's credit rating, one of the people said. Standard & Poor's yesterday cut its rating on Verizon by one grade to BBB+ from A-.
Vodafone shares fell 5 percent to 202.50 pence at the close of trading in London, while Verizon's stock fell 2.9 percent to $46.01 in New York.
U.S. wireless operators have enjoyed strong recent results as consumers sign up to relatively expensive mobile-data packages. Verizon's most recent earnings beat analysts' estimates as more customers opted for long-term contracts.
Kabel Deutschland
Vodafone's decision in the meantime to acquire Kabel Deutschland Holding AG, the largest German cable-TV provider, for $10 billion gave the company another reason to accept Verizon's entreaties, one of the people said.
In addition to putting pressure on Vodafone's finances, the deal pointed the way toward a potential future use for the windfall of the Verizon sale: building a fixed-line business to allow the company to offer so-called quadruple-play mobile and home broadband packages, the person said.
Vodafone was advised by UBS's Simon Warshaw, while Goldman's team was led by Karen Cook, a London-based president for its European business. Verizon tapped Paul Taubman, an ex-Morgan Stanley banker, and Guggenheim's Andrew Decker for advice, as well as JPMorgan Chase & Co. and Morgan Stanley, which along with Bank of America Corp. and Barclays Plc also provided about $60 billion in financing.
For its codename, according to one of the people, Verizon selected a nature theme as well -- Project River.
"We had lots of meetings -- in New York, in London, in Amsterdam -- and one of our final meetings was in San Francisco," McAdam said in the interview yesterday. "It's not one meeting but really a mosaic, lots of little pieces needed to bring a deal like this together."
Before it's here, it's on the Bloomberg Terminal.
LEARN MORE