The One Direction Lesson: Music Docs Hit All the Right Notes in Theaters
by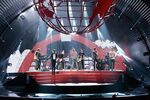 The Labor Day box office battle couldn't have squared off more disparate forces: Lee Daniels's The Butler, a solemn, White House-set biopic with high awards-season ambitions, and One Direction: This Is Us, an upbeat documentary about a boy band. While The Butler won the four-day crown with $20 million, the concert flick enjoyed a formidable Friday-to-Sunday surge, pulling in about $15.8 million. It's the latest pop act-themed documentary to score big at theaters.
"Concert movies have clearly been on the rise in the past few years: The top five highest-grossing entries in this genre have all been released since 2008," says Ray Subers, editor of BoxOfficeMojo.com. Before then, he says, "only two concert movies had ever been released in over 600 theaters: 1988's U2: Rattle and Hum and 1991's Madonna: Truth or Dare."
The concert movie is hardly new and has featured several commercially successful, critically acclaimed turns by directors such as Martin Scorsese (The Last Waltz, Shine a Light) and Jonathan Demme (Stop Making Sense, Storefront Hitchcock). In 1970, the film Woodstock took the Best Documentary Oscar. But the genre has never been a big draw at the theaters.
Perhaps that's because the art-house music docs of yesterday weren't targeting the right demographic. For One Direction: This Is Us, moviegoers were 87 percent female and 65 percent were under 17. With a similar demographic, Justin Bieber: Never Say Never pulled in $73 million domestically in 2011, and Hannah Montana/Miley Cyrus: Best of Both Worlds Concert Tour raked in $65 million in 2008. Last year, Katy Perry: Part of Me grossed around $25 million.
Even when they fail—Jonas Brothers: The 3D Concert Experience brought in a paltry $19 million in 2009—the value proposition in producing them is hard to beat. Concert movies usually cost less than $15 million. "As alternative forms of entertainment continue to crop up, studios are constantly trying to find cheap, unique ways to get audiences in to theaters," says Subers.
Technology has played a part, too. In recent years, digital cinema has made shooting high-quality concert footage easier and more affordable. "The theater space is now being used as an event space, and concerts are events," says Keith Simanton, managing editor of IMDB.com. "They bring opera to movie theaters. They bring music concerts, Broadway shows. Even just knowing about this has changed the way we think of movie theaters—they're not just for our typical understanding of a movie any more."
Whatever your music or film preference (to be fair, This Is Us was made by acclaimed documentarian Morgan Spurlock and is rated 69 percent ripe on Rotten Tomatoes), there's a certain democratizing quality to these films. Not every teen can afford $100 concert tickets. And since they're often being released in 3D, the new breed of concert movie, according to Subers, "gives the impression of an immersive experience akin to actually being at a concert (albeit for much, much less money)."
It's a situation in which both bands and fans appear to benefit. For perspective: In 2012, Bruce Springsteen was one of the music industry's top touring acts, performing before about 2.1 million people and raking in nearly $200 million. After a single weekend, One Direction's film has played to more people–and the band didn't have to take the stage 72 times to do it.
Before it's here, it's on the Bloomberg Terminal.
LEARN MORE