The $200 Six-Ounce Weight-Loss Program
by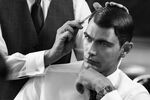 Anyone who has had a bad haircut (which is to say everyone) has heard it before: It'll grow out in no time.
It's true -- haircuts don't last. So why do people pay hundreds (and women thousands) of dollars for them?
Loot spoke with Gloria Hortua, the manager of the Carsten Institute of Cosmology, a hair school in SoHo that places students in salons like Frederic Fekkai, known for his $1,800 women's cut.
"There's two different major techniques," she says. "There's the French hair-cutting technique, which involves a lot of client consultation." Then there's the "horizontal haircut, where it's the same thing for everyone."
It's not just a one-size-fits-all approach that differentiates a $12 cut from a $120 one, Hortua says. It's also the tools. "No one would pay $300 for a clipper haircut," she says. "Those are for 15-minute cuts."
Instead, by using scissors, hairdressers can control the angle at which hairs are cut, so "the hair grows out differently. A clipper cuts at a straight angle, but with scissors you can direct hair in a variety of directions so the ends aren't cut so sharp." The result: Your hair grows back evenly.
That seems more than fair -- a machine lacks the subtlety and control of someone operating a pair of scissors; scissors take longer, and the haircut costs more. Just how much more is where Hortua begins to lose us.
"A good haircut should be $75 to $80 from a junior stylist," she says. "A senior stylist will charge $150 to $300." Loot's usual cut? $12. (Our colleague Sam Grobart's recent haircut/reporting assignment : $1,200 -- but that's for the guy who does Angelina Jolie's hair.)
Is all of that money going into the quality of the cut?
"You can pay less and get the same technical skills," says Diana Varvaro, a learning leader (teacher) at Academy NYC, a Paul Mitchell partner school. "The thing that sets an expensive haircut apart is the experience."
So chances are, much of the cost of a hundred-dollar haircut has gone into making you feel like spending that hundred dollars was worth it.
But you know what? There are a lot of bad haircuts in the naked city. The real test of whether the cut is worth the price is if you like it. Two hundred dollars or 12, if you look in the mirror and think, "Wow, I look fantastic," it was worth it. If not, may we direct you to a pair of clippers.
James Tarmy reports on arts and culture for Bloomberg Muse, the arts and leisure section of Bloomberg News.
Before it's here, it's on the Bloomberg Terminal.
LEARN MORE