Rupiah Weakens Beyond 11,000 a Dollar for First Time Since 2009
Yudith Ho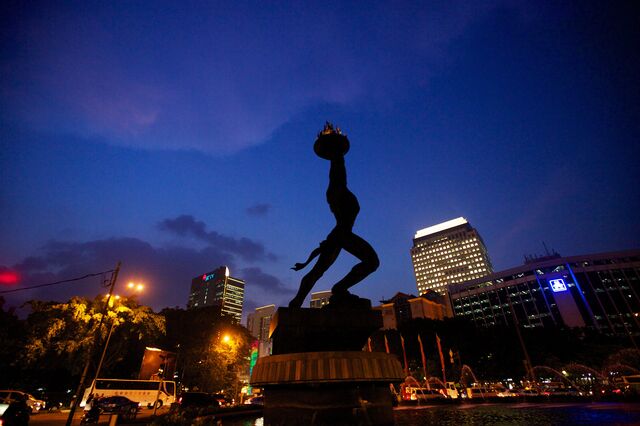 The rupiah weakened beyond 11,000 per dollar for the first time since April 2009 on concern Indonesia will struggle to rein in a record current-account gap.
The nation's trade shortfall was $2.3 billion in July, compared with the $393 million median estimate in a Bloomberg survey of economists, data showed yesterday. The current-account deficit will be about 4 percent of gross domestic product or more this quarter, from 4.4 percent in the previous period, Bank of America Merrill Lynch economist Hak Bin Chua wrote in a Sept. 2 note. That compares with the government's target of 3 percent.
The rupiah slid 0.8 percent, the biggest drop since Aug. 20, to 11,065 per dollar as of 4:02 p.m. in Jakarta, prices from local banks compiled by Bloomberg show. In offshore trading, one-month non-deliverable forwards were 5.5 percent weaker than the spot rate at 11,715, down 1.7 percent from yesterday, according to data compiled by Bloomberg.
"Domestic demand and imports are still too strong, which isn't helping the current account," said Andy Ji, a foreign-exchange strategist at Commonwealth Bank of Australia in Singapore. "The spot rate will slowly but surely weaken, but it's expensive to take a long dollar position in the offshore market, so the gap shouldn't widen too much," he said, referring to the difference between onshore and offshore exchange rates.
A fixing used to settle rupiah forwards was set at 11,293 per dollar, 2.7 percent weaker than the spot rate, according to the Association of Banks in Singapore. One-month implied volatility, a measure of expected moves in the exchange rate used to price options, fell 65 basis points, or 0.65 percentage points, to 18.15 percent, data compiled by Bloomberg show.
Indonesia's imports rose 6.5 percent from a year earlier to $17.4 billion in July, the largest amount in data compiled by Bloomberg going back to January 2008, as exports contracted for a 16th consecutive month, yesterday's trade figures showed.
Fixing, Volatility
The yield on bonds due May 2023 climbed 12 basis points to 8.53 percent, the biggest increase in a week, according to prices from the Inter Dealer Market Association. The yield has risen 3.33 percentage points this year.
"Whatever you gained from Indonesian assets in the last two-and-a-half years would probably be wiped out by hedging against rupiah in the offshore market," said Commonwealth Bank of Australia's Ji.
Before it's here, it's on the Bloomberg Terminal.
LEARN MORE