Microsoft's Nokia Deal Will Crush Licensing for Windows Phone
Kevin C. Tofel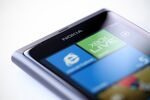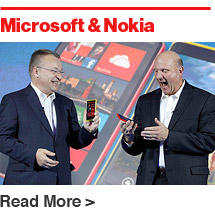 At a high level, it may sound as if Microsoft's $7.17 billion deal to buy Nokia's devices and services business is similar to Google's $12.5 billion acquisition of Motorola in 2011. As such, Microsoft will still be licensing its software to hardware partners, just as Google does, right? Not so fast. Although Microsoft still hopes to do so, it's not going to happen.
First, theres a key difference in the structure of these seemingly similar deals. When Google bought Motorola, it pledged to keep the company as a separate subsidiary. To put hardware partners at ease, the company said it would  build a firewall between Google and Motorola.
Meaning: Motorola would receive the same Android code and support as all Samsung, HTC, LG and others. The company has generally made good on that promise. Case in point: When the Moto X came to market last month, it had Android 4.2.2 installed. Google released Android 4.3 to all partners at the same time; there was no special treatment for Motorola.
With its deal, Microsoft is doing the opposite. It is absorbing Nokia's phone business—not just Windows Phone, but Asha, too—and bringing over Nokia executives at the highest level, all the way up to Chief Executive Officer Stephen Elop. Phone manufacturing and 32,000 employees come with the deal as well. Theyll all be Microsoft employees; Nokia wont be a separate subsidiary of the company.
The difference in the approach is vast to hardware partners. Whereas Google went out of its way to persuade its partners that they had nothing to fear from the Motorola deal, Microsoft has done no such thing, unless you count this excerpt of a blog post today from Terry Myerson, executive vice president at Microsoft operating systems:
"As the engineering leader for the Windows Phone efforts, I was there at the birth of Windows Phone, and a key part of our original partnership with Nokia. I know firsthand how critical it was for me and the team to be a valuable partner to Nokia, in addition to building out a great ecosystem of partners, hardware and software alike.

"Today's announcement doesn't change that acquiring Nokias Devices group will help make the market for all Windows Phones, from Microsoft or our OEM partners.
You could have at least named the partners, Terry!
Lets be honest: This news is just the final nail in the coffin when it comes to hardware makers licensing Windows Phone—and Windows RT, for that matter.
Outside of Nokia's Lumia brand, most Windows Phones from partners have been afterthoughts—hardware originally designed for Android and later made to run Microsoft's operating system. The designs have been largely uninspiring because for these companies, Android is priority No. 1. Samsung and HTC, both of which have made some recent Windows Phones, may be finished. LG was never truly committed to the platform, and few others bothered in the first place.
Windows RT is the same, though for different reasons. The platform simply hasn't caught on. Traditional hardware partners put out devices late last year but they have largely ceased supporting them. Samsung, Asus, Lenovo, and others haven't seen much demand. Samsung even decided to kill its Windows RT product in some countries early on. Dell and Acer may still be in the game for a little while.
Oh, and then there's Microsoft, with its own Surface RT. I thought the company would be working on a second generation of the device, possibly in time for this holiday season, but now I'm not so sure. Why not? The company took a $900 million inventory hit on the first generation, for starters. Then came a leaked Windows RT tablet that Nokia is working on, complete with the type of specs that could help turn the device into a winner. Could it be Surface 2? Perhaps not in name, but in spirit.
Coincidentally, when reporting that story on the Nokia tablet news last month, I closed with this thought—rather timely, given the current news:
"The interesting side-story here is that Nokia seems to be gathering momentum first with Windows Phone and now, potentially, with Windows RT, just as Microsofts CEO is planning to retire. A deeper Microsoft partnership with Nokia could bring a new CEO back to the company in Stephen Elop, while also getting a hardware company or division that has more expertise in building phones and tablets. Hmm."
The ultimate point here is that Microsoft is doing exactly what it said when the Ballmer retirement was announced: It is becoming a devices and services company. Because of that, the days of licensing Microsoft software—at least in the case of Windows Phone and Windows RT—are coming to a close.
Also from GigaOM
Unlike Ballmer, Microsoft's New CEO Must Understand Mobile
What Will CRM Look Like in 2015?
Free of Its Hardware Biz, Nokia Is Now a Serious Google Rival
Water ATMs Emerge in India's Urban Slums—A Clean Water Breakthrough?

The Uncomfortable Truth About Personalized Learning
Before it's here, it's on the Bloomberg Terminal.
LEARN MORE