Hunger Games: North Carolina Calls 'Cut' on Film Subsidies
By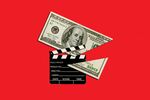 The closing credits may soon roll on the generous incentives that lured a string of big-budget film projects to North Carolina. Local lawmakers have approved a budget that calls for current incentives—tax breaks of roughly 25 percent of a production's spending in the state—to expire at the end of next year.
By this point, the arguments for and against film incentives are as predictable as a romantic-comedy script:
Handsome Hollywood Producer: It's clean commerce and high wages that quickly spread through the community.

Quirky Local Barista: But you always just hire actors from Los Angeles and bolt whenever another state offers a sweeter deal. Plus, you don't spend that much.
Last year, North Carolina granted $69 million in tax breaks for filmmakers, including $20 million to Iron Man 3, $13.8 million for the second installation of The Hunger Games, $7.6 million for Showtime's Homeland series, and $190,000 for production of The Daily Show with Jon Stewart, according to the state's Department of Revenue. The state also ponied up for some less critically acclaimed fare, including $395,000 in tax breaks in support of advertising production for Belk department stores and Diet Mountain Dew.
What did North Carolina taxpayers get for their $69 million investment? About 14,100 temporary jobs and $278 million in spending on local goods, services, and workers. And that return is either terrific or terrible, depending on who is asked. North Carolina Commerce Secretary Sharon Decker is lobbying to maintain at least some of the incentives. The Motion Picture Association of America said in a July letter to Decker that Hollywood producers are poised to yank several major productions out of the state and move them to places that show no sign of backing away from major silver-screen sweeteners. But the Center on Budget and Policy Priorities, a left-leaning think tank, counters that film subsidies at best offer little return and at worst are "a classic race to the bottom" against other states.
The only way to come to a conclusion is to take a sober estimate of two things: Which films would have come to a state without any financials sweeteners? And what kind of return could North Carolina get for tax breaks elsewhere? The incentives given to filmmakers could have instead been diverted to support a gunmaking factory or a jet-engine plant, or returned to the millions of residents paying income taxes.
Other states, meanwhile, remain committed to even higher incentives for filmmakers, most notably Louisiana (up to 30 percent of production costs) and Michigan (up to 42 percent). As lawmakers elsewhere continue to weigh the benefits of such lavish subsidies, expect to see sequels to the drama in the North Carolina Statehouse.
Before it's here, it's on the Bloomberg Terminal.
LEARN MORE