Do American Lawyers Need Less Law School?
Paul M. Barrett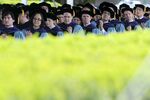 President Obama recently galvanized a national debate about the future of U.S. legal practice and education by suggesting that law schools could get the job done in two years rather than the traditional three.
The president, a former constitutional law professor at the University of Chicago and onetime head of the Harvard Law Review during his own student days, offered his seemingly offhand curricular amendment during an appearance at Binghamton University in New York last month. Aspiring attorneys, he argued, could cut soaring tuition debts and gain valuable work experience by heading off sooner into the real world of employment. "In the first two years, young people are learning in the classroom," Obama said. "The third year, they'd be better off clerking or practicing in a firm, even if they weren't getting paid that much, but that step alone would reduce the costs for the student."
The notion of cutting tuition revenue by a third certainly got the attention of the beleaguered legal academy and the profession it serves. Marsha Cohen, a professor at the University of California's Hastings College of the Law in San Francisco, wrote this morning in a letter to the editor of the New York Times that the president "seems to have endorsed … the lawyer training model being implemented by our new national nonprofit, Lawyers for America," where she also serves as the founding executive director. Participants in Cohen's program "spend their third year at a legal nonprofit or government agency," she explained. "After graduation and the bar exam, they return to the same workplace for a year, earning a fellowship stipend, the funds for which are provided by the agency, which benefits from low-cost fellows."
Sounds appealing, although not to some traditionalists. In a dueling letter, Philip Schrag, a professor of law at Georgetown University, argued that the Obama plan would mean "that new lawyers would be exposed only to basic survey courses and would receive little of the specialized training that their future clients will need. It is virtually impossible to construct a four-semester curriculum that would include the basic subjects such as corporations law, criminal law and procedure, the introductory tax course and evidence along with more advanced subjects such as corporate taxation, the law of government, international trade law and negotiation."
In another sign of the saliency of the issue, the American Bar Association's new president, James Silkenat, made a symbolically significant appearance this morning at a Brooklyn Law School symposium entitled "The First National Conversation in Response to President Obama's Two-Year JD Proposal." Brooklyn Law has introduced a two-year program modeled on Lawyers for America.
Silkenat, a corporate attorney in New York with Sullivan & Worcester, said that fixing America's law schools would be one of his top priorities as head of the trade group. He challenged the widely held idea, however, that the U.S. legal labor market is vastly oversupplied and that simply slowing the law school assembly line would cure a lot of problems. "That's looking through the wrong end of the telescope," Silkenat asserted. If anything, the country needs more attorneys, he said, a contention that might dismay litigation-averse corporations that employ Silkenat when he's not laboring for the ABA. He quickly clarified that the additional lawyers he envisions would not file class actions against big businesses but would provide modestly priced services to middle-class and poor people in areas such as matrimonial law, housing, employment, and bankruptcy. He left unexplained who would pay for these services.
Another question occurred to me as I listened to the timely debate at Brooklyn Law: How would the two-year programs save students any money? The fine print on that school's two-year PIPS program—short for Public Interest/Public Service—reveals that during the third year when students are out learning the trade, they're still obligated to pay tuition to Brooklyn Law. That tuition, at a venerable but not first-tier institution, costs $1,795 per credit, or $152,575 for the 85 credits needed for graduation. For a J.D. who lacks lottery-winning or well-to-do parents, that's still a big debt load, especially if the newly minted attorney is heading off to public service.
The debate over the optimum duration of law school clearly has a long way to go.
Before it's here, it's on the Bloomberg Terminal.
LEARN MORE