Boston College MBA Takes to the Road to Find Himself
Francesca Di Meglio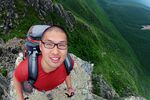 Ben Lee, a 2013 graduate of Boston College's Carroll School of Management, is taking the MBA road less traveled: a motorcycle trip to all 59 national parks in the U.S. His goals are to pursue his passion for riding a motorcycle, to see the country, and to figure out what to do with the rest of his life. As he goes, Lee is maintaining a blog that highlights the details of his trip and the people he encounters along the way.
While passing through Cuyahoga Valley National Park in Brecksville, Ohio, during the first week of his trip, Lee spoke to Bloomberg Businessweek's Francesca Di Meglio. Below are edited excerpts of their conversation:
A lot of things can go wrong on this trip—from your motorcycle breaking down in the middle of nowhere to not having a job when you get back. So how scared are you?
I'd be lying if I said I wasn't scared. The first day on the road, I was driving from Boston to New York. And I had this fear that the trip would end before it started because the bike would break down around Connecticut. The fear of failure is going away because I redefined success for this trip. At the start of this project, I thought if I didn't finish the trip, it would be a failure. Now it's more about the journey than the destination.
Did your MBA program fail you, because you're still trying to find yourself?
The Carroll MBA did not fail me. I see all this as a calculated risk, and I trust the 59Parks blog will generate interest. The MBA gave me the confidence to do this. I have practical skills that helped launch the blog and helped me think outside the box.
A lot of people go into an MBA program thinking the answer of what to do with their life will be handed to them on a silver platter. That's not how it is designed. The MBA helps you achieve the goals you set. It teaches you to analyze a company and tell it what to do to improve. But it is hard to take your own medicine.
How is it possible for you to forgo a traditional job and take off on this trip?
It is a huge privilege. I have some savings, I'm single with no children, and I'm young enough that I don't have too many responsibilities. People often regret they didn't do things like this. But everyone has his own risk to take. I tell my guy friends, "Yours is asking your girlfriend to get married." It's about taking the next step in your life.
How long do you expect this trip to take?
Assuming there are no major setbacks, it should take between one and two years. With the pace of travel on a motorcycle, and breaks in the winter and for the holidays to visit family, it will probably be closer to two years. In the upcoming winter, I'll be spending time in Hawaii, offering up my MBA skills in exchange for staying at a hostile. After Hawaii, I'm headed to American Samoa to spend a week with a family that offered to host me.
What is the take-away for others following your journey?
I'm trying to show people that this isn't just about me. We can all learn from this. There's something you're hesitating to do that you really want to do right now. You can do it. I wanted to stop waiting and start living.
Keep track of Lee's journey at 59Parks.com. Join the discussion on the Bloomberg Businessweek Business School Forum, visit us on Facebook, and follow @BWbschools on Twitter.
Before it's here, it's on the Bloomberg Terminal.
LEARN MORE