B-School Traditions: Fall Football Frenzy
Geoff Gloeckler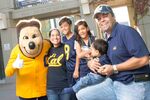 Football season is here. Over the next 14 Saturdays, college towns across the country will play host to tens of thousands of visitors, and many of the universities that boast a long-standing football tradition are also home to a top-ranked business school. Don't think for a minute that the B-schools aren't taking advantage of this football frenzy.
Some host tailgate parties with the purpose of matching current students with potential employers; some use football games as the centerpiece for MBA class reunions and alumni engagement events; others invite executives who are coming to town to stop in and speak to students. At nine West Coast B-schools, including USC, UCLA, Stanford, and UC Berkeley, MBAs have put a competitive twist on football season, hosting charity events and fundraisers to raise money as part of the yearlong Challenge for Charity competition. Here's a rundown of a few of the football-related events that specific B-schools hold:
At the University of Texas at Austin, home of the Longhorns, the McCombs School of Business hosts Texas MBA football tailgates in front of the business school for students and alumni before each home game. For students it's a good way to network with MBA alumni, as well as potential employers, in an atmosphere that's more comfortable and laid-back than a typical recruiting event. As an added incentive, the Graduate Business Council arranges for local Austin food trucks to provide Texas-style fare.
Similarly, at UCLA's Anderson School of Management, tailgates on the golf course next to the Rose Bowl offer a rare chance for students in the full-time, part-time, and executive MBA programs to get together and share war stories.
At Notre Dame, home of the Fighting Irish, the Mendoza College of Business hosts executive speakers on the Fridays before most home games in what's called the Boardroom Insights series. The talks are open to both graduate and undergraduate students. This year's list of speakers includes Hamdi Ulukaya, the founder and chief executive officer of Chobani, and Bob Moritz, chairman and senior partner of PricewaterhouseCoopers. The business school also organizes career panels on football Fridays where well-placed alumni meet with students to provide career advice and networking opportunities.
At the University of Michigan, home of the Wolverines, the Ross School of Business uses one football weekend each fall to host the Ross Reunion, a business school homecoming event for alumni classes celebrating milestone anniversaries. Activities include a pep rally with current students and a "speed reunion." (Think speed dating, except instead of a potential boyfriend or girlfriend sitting across from you, it's a member of your favorite student club, filling you in on what's been going on.) There's also a dinner and a tailgate complete with class photos, all culminating with the football game.
UC Berkeley's Haas School of Business hosts a similar weekend each year, called Haas Homecoming, as part of the university's homecoming weekend, which includes lectures from top professors, a Mexican Fiesta, and a Haas alumni section at the football game.
Join the discussion on the Bloomberg Businessweek Business School Forum, visit us on Facebook, and follow @BWbschools on Twitter.
Before it's here, it's on the Bloomberg Terminal.
LEARN MORE