Austin to London, Nonstop: How the Dreamliner Made it Happen
by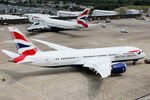 When Boeing began shopping its new 787 Dreamliner to potential customers a decade ago, it quickly became clear to airline executives that the jet's lower operating economics would allow for all sorts of new routes that existing planes couldn't fly cost effectively. With its combination of long-haul range and modest seat capacity—not too big, not too small—the 787 could connect far-flung destinations that had traditionally required a stop in a hub.
Now the new routes are becoming realities. British Airways plans to begin flying a 787 from London Heathrow to Austin, Tex., in March, its third Texas destination, while low-cost carrier Norwegian Air Shuttle will begin using the plane on new flights from Scandinavia to California in March. Stockholm-Los Angeles will be the first route, followed by flights from Oslo and Copenhagen to the second-largest U.S. city. Norwegian will also use the 787 on new flights in May, from Oslo and Stockholm to Oakland, Calif.
Austin's rising importance—the city now hosts several tech heavyweights such as Dell, Apple, Google, IBM, and EBay, along with several major cultural events year-round—made it an appealing addition to British Airways' roster of 20 U.S. destinations, said Simon Brooks, BA's senior vice president for North American sales. He declined to discuss whether the airline is getting any type of incentives from Austin for the route, which will have daily flights in May, up from five per week initially. An airport spokesman, Jim Halbrook, said London is the top international destination from Austin and that British Airways received no subsidies or other financial enticement to launch the flight.
Airlines that have deployed the 787 fly it with 214 to 291 seats, a configuration that is smaller than Boeing's popular 777. But the 787 can fly as far as 8,200 miles, a range that matches Boeing's newest 747 jumbo jet. That combination has proved alluring and makes the 787—which is touted as 20 percent cheaper to operate than prior jumbo jets—a tool for nonstop routes never before seen in commercial aviation.
United, the first U.S. airline to fly the plane, has begun service between its Denver and Tokyo hubs, a pairing that Chief Executive Officer Jeff Smisek says was possible only because of the plane. "If we flew the 777 on that route, we'd have our head handed to us," Smisek told the Denver Post last year. "In terms of costs, it would never be worth it." United also is flying the 787 from Houston to Lagos, the first time the two crude oil centers have been linked by a nonstop flight.
Before it's here, it's on the Bloomberg Terminal.
LEARN MORE