Anxieties of September Give Markets Reason to Tremble
By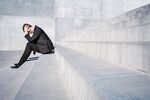 September will be September. Forget the fact that the Standard & Poor's 500-stock index is up 15 percent this year—not far off its record—or that the U.S. market has not had a routine 10 percent correction for more than two years. Never mind how Microsoft and Verizon are throwing billions at dealmaking. September remains that only month of the year where the Dow Jones industrial average has averaged a decline over the past 20, 50, and 100 years.
Throw in a down and volatile August, and the new month starts anxiously, true to its character. Ed Yardeni of Yardeni Research notes that Investors Intelligence reported a big drop in the percentage of bullish advisers over the past six weeks. The fraction surveyed who saw a correction rose from 28 percent to 38 percent over the period.
"Fear is back on the front page," says Joshua Scheinker, an adviser with Scheinker Investment Partners of Janney Montgomery Scott. "My clients are so concerned, almost looking for another crisis, whether Syria, the debt ceiling, or interest rates."
Beyond uncertainty surrounding Syria, there's also the looming prospect of Federal Reserve tapering and the attempt by emerging markets to recover from a brutal summer. "These are all legitimate concerns, of course, but they pale in comparison to what I believe is the number one threat to the market right now: interest rates," wrote Josh Brown, a Manhattan financial adviser at Fusion Analytics who blogs as the Reformed Broker.
The 10-year Treasury now yields 2.89 percent, up sharply from the year's low of 1.61 percent on May 1. "By interest rates," adds Brown, "I do not mean the absolute level, but the velocity of the increase, taking place at a speed the markets are currently unprepared for and businesses may not have planned for." He notes the effect of higher rates on the housing market is already being felt in new home sales, which saw a 20 percent drop-off in June and July. "This," he writes, "does not bode well for existing home sales in the coming months or in Case-Shiller home prices next quarter."
Stock valuations will also have to contend with higher corporate borrowing costs. Bloomberg's Whitney Kisling and Nick Taborek report that pricier debt could curtail the buybacks and dividend increases that have boosted profitability and returns in the long bull market. According to Birinyi Associates, authorized U.S. buybacks reached a six-year high of $505 billion so far this year after more than $1.7 trillion of repurchases since 2009. The 100 shares in the S&P 500 with the most buybacks relative to market value have beaten the index since March 2009, advancing 236 percent compared with 141 percent for the S&P, data compiled by Bloomberg show.
But buyback plans have slowed as the Fed prepares to taper its bond-buying: Less than $50 billion was announced in each of the past two months, compared with an average of more than the $68 billion between January and June.
While corporate profits are at a record, profit growth has slowed to an average 4.2 percent the last six quarters, compared with the 28 percent mean during 2010 and 2011. "Now that profitability has been basically pushed up toward peak levels, in order to get earnings to go higher from here, who else are you going to fire? What else are you going to cut?" says Kevin Caron, a market strategist at Stifel Nicolaus. "The trillion-dollar question is, what drives the rally from here?"
Before it's here, it's on the Bloomberg Terminal.
LEARN MORE