Redgrave's Lover to Join Jude Law's Henry V: London Stage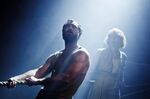 London theater's fall season arrives with new surprises.
Vanessa Redgrave (76) and James Earl Jones (82) are playing the frisky on-off lovers Beatrice and Benedick in "Much Ado About Nothing" at the Old Vic, starting Sept. 7. Expect ageist preconceptions to be challenged.
Clever director Mark Rylance no doubt has a directorial ploy up his sleeve to make it all flow.
They're far from the only stars to hotfoot it to London to play Shakespeare.
Jude Law cries God for Harry, England and Saint George in the title role of "Henry V" at the Novello Theatre in November. The production is part of the exciting year-long Michael Grandage season at the theater, which also includes Sheridan Smith as Titania in "A Midsummer Night's Dream" with David Walliams starting in September.
Simon Russell Beale gave a terrific turn as a blowsy Marlene Dietrich in "Privates on Parade" for Michael Grandage. In January next year he climbs the thespian Everest which is "King Lear" at the National Theatre, in an eagerly-awaited staging from Sam Mendes.
There's even more must-see Shakespeare when David Tennant ("Doctor Who") tackles "Richard II" at the Barbican in December and January. It's a transfer of a Royal Shakespeare Company production by Gregory Doran -- the first in the director's new cycle of history plays -- which opens in October at Stratford-upon-Avon.
Butterworth's Mojo
The "Harry Potter" franchise is proving to be a good source of food for the great chomping maw of the West End. Daniel Radcliffe has just been starring in "The Cripple of Inishmaan." In October, his film co-star Rupert Grint makes his stage debut in a revival of the dark gangster comedy "Mojo" by Jez Butterworth ("Jerusalem").
What of musicals? The big news is that there's a new work from the pen of Andrew Lloyd Webber. "Stephen Ward," opening in December, is about the fashionable slippery osteopath at the center of the Profumo sex-and-politics scandal of 1963. He committed suicide at the end of his trial.
Director Rupert Goold did a great job with Lucy Prebble's satire-with-music "Enron." In December he turns his attention to the world premiere of "American Psycho," a new musical by Duncan Sheik based on the novel by Bret Easton Ellis. It opens at the intimate Almeida Theatre.
Other musicals include "From Here to Eternity" with lyrics by Tim Rice (opening at the Shaftesbury Theatre late in September), and Roddy Doyle's "The Commitments" at the Palace Theatre, also in September.
It doesn't look like a good time for new writing (though when was it ever a great time for new writing?). Never mind. There are still plenty of chances to catch some starry actors and directors doing what they do best.
Muse highlights include Scott Reyburn on the art market, Laurie Muchnick on books, Greg Evans on U.S. television and Mike Di Paola on conservation.
(Warwick Thompson is a critic for Muse, the arts and leisure section of Bloomberg News. The opinions expressed are his own.)
Before it's here, it's on the Bloomberg Terminal.
LEARN MORE