Patriots Profit on Tebow's Solid Souvenir Stats
by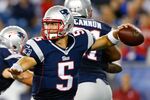 Tim Tebow once again moved from journeyman quarterback to free agent/freelance preacher over the weekend as he was cut by the New England Patriots. But never fear, fans can still buy a No. 5 Tebow game jersey at the Patriots pro shop for $100. Plenty are available on NFLShop.com, as well, although they are marked down by as much as 43 percent.
Tebow might not have Tom Brady's throwing mechanics, but he is as good or better when it comes to moving merchandise. Going into the 2012-13 season, Tebow's New York Jets jersey was behind only those of Robert Griffin III and Peyton Manning on a roster of top-sellers, according to the NFL. By the end of the season, it had fallen to only 13th place despite a pretty dismal season for both the Jets and Tebow (six completed passes—zero touchdowns).
Since joining the Patriots in June, the online retailer Fanatics.com sold more Tebow gear than all but 10 other NFL players. Indeed, Tebow's impressive stats in the souvenir shop seemed to be part of the Patriots strategy from the start. Within hours of signing him, the organization blasted out an e-mail telling fans they could "pre-order" Tebow jerseys (even though the team had yet to assign him a number). The Patriots had no such pitch in place for Ryan Mallett, the tall Texan who beat Tebow out for the backup quarterback slot. In fact, good luck even finding a Mallett jersey at the Patriots shop.
So what was the return on Tebow? Probably pretty good, according to some extremely rough calculations.
The Green Bay Packers are the only NFL team that kind of, sort of discloses financials. In the past few years, the Packers annual revenue from its pro shop and local marketing initiatives has been running around $40 million to $50 million. The NFL said the Patriots were slightly ahead of the Packers in terms of merchandise sales this spring, so let's assume its apparel shop is bringing in $50 million a year.
Tebow was a Patriot for about 20 percent of the calendar year. It was during the off-season, but plenty of buyers probably bit on the organization's preseason Tebow pitch. Let's assume the Patriots sold at least 100 game jersey in that span—that would be enough to bring in $1 million of revenue from Tebow gear alone.
What did New England pay for the name over the last few months? Roughly $130,000, assuming Tebow drew his reported minimum salary of $630,000 a year.
Maybe the failed quarterback has a future in apparel?
Before it's here, it's on the Bloomberg Terminal.
LEARN MORE