Five Questions on the Verizon Wireless Megadeal
by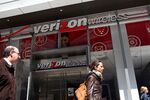 Verizon Communications is paying $130 billion to take full control of its mobile phone joint venture with Vodafone Group, one of the largest transactions in corporate history. Why? Take a look around any mall, airport, or sporting event—people are addicted to their Android and Apple gadgets backed by pricey service plans. Verizon Wireless, in which Vodafone has a 45 percent stake, is the most profitable carrier in the U.S.
With even greater mobile commerce expected in the future as speeds increase and the user platforms expand to all sorts of new venues—even to your Buick or your Frigidaire—there's reason to think the enormous business being bought up by Verizon will remain lucrative. "The world is going increasingly wireless," Howard Ward, chief investment officer at Gamco Asset Management, said on Bloomberg TV's "Surveillance" last week. "This is going to be a very good business for a very long period."
The deal will dissolve the relationship the companies formed in April 2000, which was one of the initial partnerships (pdf) for the new Verizon, formed in the merger of GTE and Bell Atlantic. In 2008, revenue from Verizon's mobile-phone customers—which now total 100 million—topped Verizon's landline business. At $76 billion in 2012, wireless revenue now accounts for the bulk of the parent company's roughly $116 billion in annual sales.
The Verizon Wireless deal is also notable for the $61 billion bridge loan Verizon arranged with JP Morgan Chase, Morgan Stanley, Bank of America, and Barclays—the largest such loan in U.S. history. Verizon will sell bonds "very quickly" to cover that debt, cable channel CNBC reported Sunday, citing people familiar with the matter. Despite the new debt, Verizon said on Monday it will retain its investment-grade credit rating, thanks to greater cash flow it will now reap from the mobile business.
The deal now has the approval of both companies' boards and is expected to close in the first quarter of 2014. As the mammoth transaction moves forward, here are five questions about how things got to this point and what's coming next:
Why is this deal happening now? The joint venture, with its periodic rocky patches, had served its purpose for both sides for 13 years, but both companies are ready to explore new options. It's also likely that Verizon executives want to get such a large deal financed now, before interest rates increase over their current low levels. In Verizon's vision, the brave new world of connected cars, kitchen appliances, and thermostats is quickly materializing and likely to create new business for its networks. Verizon Chief Executive Lowell McAdam said late last year that he sees a day when some people are willing to pay an extra quarter or 50¢ per month to control their home heating and air conditioning with a Verizon connection.
For Vodafone, the U.S. is no longer interesting as a growth story. Plus, a large pot of cash for its stake in Verizon Wireless helps set the stage for more expansion in Africa and other places where the growth of wireless voice and data remains truly compelling. Back in January, Bloomberg News took a closer look at Vodafone's big push into Africa:
Vodafone's biggest African business, Johannesburg-based Vodacom Group Ltd., surpassed the company's U.K. unit in 2010 by profit, and it outpaced the Spanish division the following year. With earnings expanding at 50 percent annually in some countries, profit from Africa could overtake that from all of southern Europe in as little as three years, said Nick Read, the executive who heads the region. "There's a massive opportunity in penetration that we need to drive forward on," said Read, who has run Vodafone's operations in Asia and the Middle East since 2008 and took on Africa in 2010. "Everyone in Africa wants to be on Facebook. They want e-mail. They want social networks."
In April, Vodacom's chief said the company was already accelerating spending in parts of sub-Saharan Africa such as Mozambique, Tanzania, and Lesotho.
Connected cars and refrigerators—really? Really. The era of phones and tablets as the only wireless devices will one day be considered quaint. The technology exists to connect all sorts of new things to the Internet via the kinds of networks the big players operate. Here's Businessweek's primer on the coming Internet of Things. So while you may not care to converse with your stove or DVR from work, there's a decent chance you'll be able to one day. And plenty of people will—providing more money for the wireless network operator. "You start adding in all your appliances and your cars and your home and your security system and all that stuff, and I think we can keep growing," McAdam said. "That's part of our job."
Is my Verizon Wireless phone bill going to rise now? Probably not. The joint venture's end has no direct effect on pricing, and Verizon faces fierce competition from AT&T, Sprint, and T-Mobile. It just no longer has to share part of your payment with Vodafone.
Which side got the better deal? Both consider the transaction a victory. Vodafone shareholders are getting a financial windfall, and the company's European customers are likely to see faster service in coming years, since the company has pledged to use some of the Verizon Wireless loot to invest in modernizing its network capabilities. Verizon now gets full access to a stable revenue source that's likely to increase over time. And the company's executives won't have to consult with their JV partner in running the business, which could increase efficiency.
At $130 billion, what kind of tax hit will Vodafone face? The deal comes with a $5 billion U.S. tax bill (pdf) for Vodafone. In the U.K., taxes will be a minor issue—structuring the deal to be both financially and politically astute is likely one of the topics the bankers considered carefully. Vodafone, which has been sharply criticized in the past for its tax payments, could use a part of the law known as "substantial shareholdings exemption" to avoid paying capital gains taxes on profits received from selling shares of another business, the Guardian reported. Vodafone says it pays the £1 tax for every £4 of income in its markets around the world. In 2010, it paid £1.25 billion ($1.8 billion) to settle a tax dispute with British tax authorities. Some European assets included in the joint venture, such as Vodafone Italy, will be transferred to Verizon as part of the buyout and then sold back to Vodafone. That would lower the U.K. tax bill as well.
Before it's here, it's on the Bloomberg Terminal.
LEARN MORE