Obama Left Weighing Solo Strikes on Syria After U.K. Vote
Joe Sobczyk, Margaret Talev and John Walcott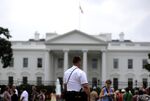 U.S. President Barack Obama was left to contemplate a unilateral attack on Syria after Britain, the U.S. ally in the Iraq and Afghanistan wars, unexpectedly decided to opt out of any military strike.
David Cameron became the first U.K. prime minister in more than a century to lose a motion on military action when the House of Commons last night rejected his plan for the use of force in Syria. Obama's administration was consulting leaders in Congress, where there's some support for solo action against Syrian President Bashar al-Assad.
With the U.K. now sidelined, no possibility of getting a United Nations mandate for military action, and inconclusive intelligence on who ordered the chemical attack, Obama faces a choice between trying to make a convincing case for attacking Syria and finding an alternative means of preventing further use of chemical weapons.
The British vote is "bad for Cameron, it's bad for Obama," said Aaron David Miller, who has advised several U.S. presidents on the Middle East. "But that is not going to prevent the president from going alone."
It's not clear whether other U.S. allies would be willing to join in an attack on Syria after the U.K. ruled it out. French President Francois Hollande has said that Syria's use of chemical weapons can't go unanswered. Yesterday, he pledged more aid for rebels in Syria and said "all efforts need to be made for a political solution," without mentioning French military action.
UN Inspectors
France and other European countries say any response to Assad should incorporate the findings of United Nations inspectors who are due to complete a probe today of the sites near Damascus where there's evidence chemical weapons were used on Aug. 21.
Hundreds were killed in one of the most gruesome episodes of a 2 1/2-year civil war that has left more than 100,000 dead. The UN team, which isn't mandated to find out who carried out the attack, may report back to Secretary-General Ban Ki-moon as early as tomorrow.
Oil prices fell for a second day as the prospect of imminent foreign intervention receded in a region that supplies about a third of the world's crude. West Texas Intermediate crude fell 1.1 percent at 8:15 a.m. in London.
'International Collaboration'
Speaking in the Philippines today, Defense Secretary Chuck Hagel said the U.K. vote doesn't change that country's strong condemnation of Syria's alleged chemical use. "It's the goal of President Obama and this government that whatever decision is taken, there needs to be an international collaboration and effort," Hagel said.
Hagel joined Secretary of State John Kerry and National Security Adviser Susan Rice in a phone briefing for Congressional leaders late yesterday. The administration will release an intelligence assessment about Syria's use of chemical arms "before the end of the week," said Josh Earnest, a White House spokesman.
Obama "has to act now," said Miller, now a vice president of the Woodrow Wilson International Center for Scholars in Washington. "If he doesn't he will not be taken seriously. Assad's use of chemical weapons and the administration's own rhetoric has left him no choice."
Obama says any action against Syria will be aimed at punishing Assad for using chemical weapons, rather than an intervention in the civil war, in which the U.S. and its allies are already supporting the rebels.
'Lethal Aid'
Senator Carl Levin, a Michigan Democrat and chairman of the Senate Armed Services Committee, called for the U.S. to step up that support by providing "lethal aid to vetted elements of the Syrian opposition."
Senator Bob Corker of Tennessee, the top Republican on the Foreign Relations Committee, said he would support "surgical, proportional military strikes." Corker got a separate briefing in which it was made clear that the administration wants military action to deter Assad from using chemical weapons, according to an aide to one of the lawmakers on the call who asked not to be identified to discuss the private conversation.
Obama faces questions from the U.S. military about risks including further chemical-weapon use by Syria in response, and the possibility that Syrian rebels aligned with al-Qaeda might be the main beneficiaries of a U.S. attack.
'War Weariness'
The flawed intelligence used to justify the U.S.-led invasion of Iraq in 2003 has overshadowed the debate over Syria in most western countries. While Cameron, in the British parliament debate, sought to play down the parallel, his chief political strategist admitted that it played a decisive role.
"We have to respect what has happened in our country in the last 10 years -- the war weariness and a deep-seated public desire that the government will focus on domestic problems," Chancellor of the Exchequer George Osborne told BBC Radio 4 today. "I hope this doesn't become a moment when we turn our back on all the world's problems."
White House officials have struggled to marshal conclusive evidence backing their assertions that Assad was directly responsible for last week's chemical attack, according to three U.S. intelligence officials familiar with the situation who asked not to be identified to discuss internal deliberations.
Once a decision is made, a strike could be executed quickly. The U.S. has four destroyers in the eastern Mediterranean capable of launching Tomahawk cruise missiles and a fifth is en route.
"This kind of thing is not that hard," said retired Marine General Anthony Zinni, who organized air strikes against Iraq in 1998 as head of the U.S. Central Command. "If you have the targets, it's a matter of moving assets into position. A lot of this could be in place."
Before it's here, it's on the Bloomberg Terminal.
LEARN MORE