Nokia Unveils Its Connected Car Platform
Kevin Fitchard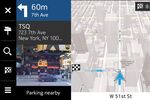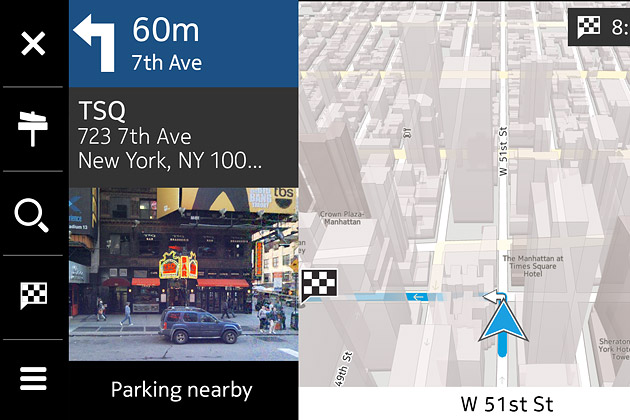 After years of being the auto industry's mapmaker, Nokia on Friday announced its intention to become a much bigger technological force in our vehicles. It introduced Here Auto, an embedded infotainment and connected car system, aimed at the world's auto manufacturers.
Here Auto's executive vice president, Michael Halbherr—who will be speaking at GigaOM's Mobilize conference in October—recently shared the Finnish phonemaker's broader connected car vision, which will eventually include autonomous driving and integrating the vehicle into future "smart city" networks. Today's release of Here Auto is its first step down that path.
It's hardly the self-driving car, but it's Nokia's entry into the growing field of Internet-linked entertainment and navigation systems. What sets Nokia apart is its strong ties back to the cloud and its core smartphone applications. According to Floris van de Klashorst, Here's vice president in charge of connected cars, in-dash infotainment systems have remained a throwback in a world of increasingly sophisticated connected devices. Here Auto, he says, is an attempt to replicate in the vehicle's dashboard the same experience we get out of smartphones and tablets.
"People say they love their phones and they love their cars," Van de Klashorst says. "But their relationship with their embedded car systems is ice cold."
Nokia's mapping and navigation are at the heart of Here Auto. The in-dash software contains all of the key features of its Windows Phone 8 app, from 3D maps to real-time traffic, points of interest, street-level imaging, and local business search.
Unlike other embedded navigation systems, Here Auto isn't walled off, Van de Klashorst says. It's the same app you access on a smartphone or through a PC browser. All of your bookmarked destinations, preferred routes, contacts, and preferences are stored in the cloud and synced between devices. If you map out a route on your phone and PC, the same route will be waiting for you in your car as soon as it connects to the network. If the car loses its connection to the Internet, the most recent route maps and settings remain saved in the car's memory.
Van de Klashorst says Here Auto is more than just a navigation system: It's designed to be a full-fledged platform for hosting any manner of infotainment app. It isn't an operating system itself; rather, it's an application abstraction layer that can be built over whatever embedded OS its automaker partners use. While Nokia has partnered closely with Microsoft in smartphones, that won't be the case with vehicles. Here Auto will work through Microsoft's Windows embedded automotive OS, but it will meld just as easily with BlackBerry's QNX car system, according to Van de Klashorst.
Nokia is releasing a software development kit (SDK) and a set of application programming interfaces (APIs), so app makers can build their apps directly into Here Auto. Those could be standalone entertainment apps such as and Internet radio audio-streaming services, or they could mix with Here's core mapping features. For instance, Foursquare could design an automotive version of its app that shows all of your friends' check-ins on the map display and could even route you directly to the last place a specific friend checked in.
While it's going to be pretty obvious to most consumers that Nokia is the brains behind the system, it isn't the company's intent to put its brand forward, Van de Klashorst says. Nokia will sell automakers Here Auto just as its Navteq division sold them maps for their own navigation systems. Automakers can customize the platform, adding their own apps and user interfaces. They'll run their own developer programs and choose which third-party apps to include in the dashboard. And they'll sell the services to drivers under their own pricing models, ultimately putting their brands in the forefront.
Nokia is releasing a white-label companion app for iOS, Android, Windows Phone, and the Web, which will act as the mobile and PC browser mirrors of the in-car system. It will contain the core Here mapping software along with any vehicle-specific apps created by the automaker, including telematics services such as remote unlock, remote engine start, and fuel/battery power gauges.
At Nokia's Here Auto headquarters in Chicago, I got a demo of how the system works. Keep in mind we were in a conference room—not in a moving car—but I did get a preview of how Here would work both within and outside the car.
A Here exec showed me how to map a route on the iPad and save that route into your favorites, where moments later it appeared on the mocked-up dashboard screen. Here Auto then "guided" us to a Nordstrom store downtown and into a parking lot. It automatically saved the parking spot's location on the map, then handed the navigation over to the Here app on a Nokia Lumia phone.
The smartphone app then provided walking directions into the store using its indoor mapping technology. At the end of our virtual shopping expedition, Here directed us back to the car, showing us not only the route on a map but also its relative direction in my field of vision via Nokia's City Lens augmented-reality app.
It was obviously a canned demo, but if Here Auto can pull all of that off in the real world, it will have quite an impressive system on its hands.
The question is whether the automakers will buy it. Most of the major car companies have already developed or are developing their own in-dash systems, and some of them—including Ford Motor and General Motors—have begun opening up those platforms to developers. While Van de Klashorst says Here Auto is in discussions with several automakers, Nokia's entry into the embedded infotainment system market might be a bit late.
Still, as Van de Klashorst points out, drivers are hardly in love with their navigation systems and infotainment services. For many of them, Nokia's Here Auto could be a big upgrade that connects their vehicles to a much broader ecosystem of smartphones and mobile apps.
Nokia has shown it can play nice with the carmakers' business models when it comes to maps. Now the phonemaker just needs to convince them to let it expand its presence on the dashboard.
Also from GigaOM:
How the Truly Smart Home Could Finally Become a Reality (subscription required)
Norway Getting Hooked Up With Tesla Superchargers
Why Foursquare's New Feature Makes a Google Takeover Offer Even More Likely
Bay Area Techies Hack Legos in a Very Goofy Robot Showdown