MBAs in Europe Come to U.S. in Search of Jobs
Louis Lavelle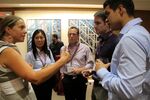 What do you do if recruiters aren't coming to business school to recruit MBAs? If you're smart, you bring the MBAs to the recruiters. That's the strategy behind a career expo to be held in New York next week.
At many European schools, top employers send recruiters to campus to hire MBAs for jobs in Europe. But MBAs in Europe who want to pursue jobs in North America are out of luck—recruiters hiring for jobs in the U.S. and Canada rarely, if ever, cross the pond.
So IESE Business School in Barcelona, Spain, and three other top schools decided to bring more than 100 MBAs to IESE's New York center on Sept. 4 to take part in a career event with seven top employers, including General Electric, PricewaterhouseCoopers, and Deloitte.
The students include second-year MBAs from IESE, the London Business School, and HEC Paris, as well as recent graduates of Erasmus University's Rotterdam School of Management. About 30 percent are from the U.S., and 87 percent speak at least two languages.
Javier Muñoz, IESE's director of career services, says additional career fairs will take place in other international locations over the next few years, starting with an event in London on Nov. 2 hosted by LBS and aimed at Asian companies seeking European MBA graduates.
The events are a response to a bifurcated recruiting process at some companies. At IESE, for example, Deloitte's European recruiters hired two 2013 MBA graduates for jobs in Spain and the U.K. this year. Many of the program's 42 North American students in the program—or 15 percent of the class—would love to return home to work, but no offers were made by Deloitte for U.S.  jobs.
IESE is hoping that will change when some of those students meet Deloitte's North American recruiters in New York next week. Muñoz says the events serve a dual purpose: Recruiters get access to a diverse talent pool, and today's globe-trotting MBA students get the employment choices they want.
It's not a bad deal for the schools, either. Three of the five European programs participating in the New York and London events last year reported sub-90 percent placement three months after graduation. At IMD in Switzerland, only about three out of four grads had jobs. Exposing U.S. students to U.S. recruiters who want to hire them certainly can't hurt.
Join the discussion on the Bloomberg Businessweek Business School Forum, visit us on Facebook, and follow @BWbschools on Twitter.
Before it's here, it's on the Bloomberg Terminal.
LEARN MORE