Cumulus Keeps Limbaugh, Dials Up New Talent, Just in Case
by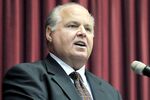 Radio giant Cumulus Media is betting on sports and blabber over bandwidth in a $260 million purchase of Dial Global, a syndication shop that sells rights to a number of talk-show hosts.
The deal was relatively complex: To pay for the purchase, Cumulus sold 53 of its almost 500 radio stations to Townsquare Media for $238 million. It swapped an additional 15 small-market stations for five Townsquare towers in Fresno, Calif. It's a testament to Cumulus's desire to trade more heavily in talent, giving the broadcaster direct access to a lot of stuff—NFL, NCAA, Nascar, the Olympics—it didn't have before. The deal also hedges somewhat its exposure to Rush Limbaugh, the No. 1 radio host, who is syndicated by Premiere Networks, a unit of Clear Channel. While Limbaugh lures a lot of listeners, his bombastic stock-in-trade has spooked advertisers on occasion.
After some testy negotiations with Clear Channel, Cumulus just reached a new syndication deal to air Limbaugh's show. The company did not renew its agreement to broadcast Sean Hannity, the No. 2 talk-show host, who is also handled by Premiere. The Dial purchase gives Cumulus an inside track to a stable of talent to fill the gap left by Hannity or to sub in for Limbaugh the next time he runs afoul of advertisers. Here are a few options that Dial brings to the table from across the political spectrum, from right to left:
• Herman Cain: The pizza magnate and memorable candidate from the 2012 Republican presidential primaries has, well, almost as much conservative cred as Limbaugh, if not nearly the same following.
• Dennis Miller: He describes himself as "basically a libertarian," and he's funny—not a prerequisite in talk-radio, but it helps.
• Thom Hartmann: A progressive former businessman who aims for the "radical middle.
• Bill Press: The former chairman of the California Democratic Party.
• Ed Schulz: A former college football star and conservative who now refers to himself as "a leftie."
If none of these guys fits the bill, Dial can cut Cumulus a sweet deal for "Pop Crush with Billy Bush." Bush is the cousin of President George W. Bush, but politics aren't really his bag.
Before it's here, it's on the Bloomberg Terminal.
LEARN MORE