World Cup Tickets a Bargain for Brazilians After Currency's Plunge
The Brazilian real's plunge creates a bargain for locals
By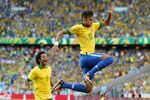 Brazil's free-falling currency is creating a boon for soccer fans seeking tickets to next year's FIFA World Cup, which will be held in 12 Brazilian cities from June 12 through July 13. The real's tumble has opened up a 20 percent difference between local and overseas prices. "What an arbitrage opportunity," says John Welch, a strategist at Canadian Imperial Bank of Commerce in Toronto who was raised in Brazil and plans to attend the tournament. "Without a doubt, some people will be transferring dollars at the market rate and then buying tickets in reais."
Soccer governing body FIFA used a rate of 2 reais per dollar in setting official prices for the tickets, which start at $90 for early matches and climb to as high as $990 for the final. FIFA determined its exchange rate for the real in May based on a year-ahead forecast by 30 international banks, the association said in an e-mailed statement. The real dropped as low as 2.45 to the dollar on Aug. 21, the day after tickets went on sale, before recovering to 2.35 on Aug. 26. By converting dollars to reais at that rate and buying the seats in Brazil, the cost of the most expensive tickets would drop to $783. Only residents of Brazil can buy tickets in reais, and they're limited to one for themselves and as many as three named guests, limiting organizers' exposure to currency fluctuations, FIFA says.
The real has tumbled 13 percent against the dollar in the past three months, the most among the world's most traded currencies. It's bearing the brunt of the investor exodus from emerging markets as the U.S. Federal Reserve prepares to reduce the money it pumps into the world economy. Growth in Latin America's biggest economy has stagnated, further hastening the flow of capital from the country. Brazil's gross domestic product expanded 1.9 percent in the first quarter from the previous year, official data showed on May 29, below the 2.3 percent growth forecast by economists. The central bank has taken steps to stem the currency's decline, which threatens to push inflation above the 6.5 percent upper limit of the official target range. On Aug. 22 the central bank said it would spend as much as $60 billion in foreign exchange markets to support the real.
Canadian Imperial Bank's Welch, who's married to a Brazilian, says the real is "way undervalued." His firm had the third-most-accurate forecast for the currency in the second quarter, and he sees it strengthening to about 2.15 per dollar by yearend, depending on the government's policy response to the slide. "It will be very difficult for the real to get back to 2 reais per dollar," says Jankiel Santos, chief economist at Banco Espirito Santo de Investimentos. "Not even winning the World Cup will be enough to reverse pessimism with regard to inconsistencies on the economic policy front."
Before it's here, it's on the Bloomberg Terminal.
LEARN MORE