business
Why Investment Banking Jobs Should Come With a Surgeon General's Warning
Francesca Di Meglio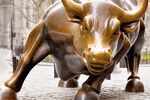 With the death earlier this month of a young summer intern working for Bank of America in London, the work of Alexandra Michel is suddenly of the moment. Moritz Erhardt, a 21-year-old business student, died after working 72 hours straight, setting off a debate over the grueling hours of the investment banking industry. Michel, a professor at the University of Pennsylvania's Graduate School of Education, is particularly well qualified to weigh in. She has studied two cohorts of associates at two major Wall Street investment banks for the last 12 years and concluded that the industry, which takes almost 20 percent of MBA graduates at some top schools, takes a brutal toll on employees.
Recently, Michel spoke to Bloomberg Businessweek reporter Francesca Di Meglio. Here are edited excerpts of their conversation:
What have you learned about investment banks?
It's a results-oriented work environment. As long as you get your work done, you can do what you want. It's a paradox: People who are given this leeway don't work less. They work more, significantly more. Even senior executives stay on the floor until midnight.
The subtle controls are things professionals have designed themselves. Initially investment banks were composed of private offices. Then they designed open floors, many without even cubicles. The idea was to make communication more effective. But it also had everyone watching everyone else—and controlling everyone else. People after 7 p.m. were given a free meal because if you worked that late, at least you shouldn't have to make dinner. What happened was that people now spent more time at work because it was so convenient. Instead of making life more leisurely, people work more.
What happens to associates who log the kinds of hours attributed to the deceased intern?
For the first four years they work beautifully. It takes a bit of a toll, but the person does not noticeably suffer. After four years the picture changes. Then you'll find these same people have chronic back pain, really severe insomnia, their hair falls out, autoimmune diseases, depression and anxiety, and addictions. But their technical skills remain the same. Creativity and ethical sensitivity, however, decline. When your body is depleted, you don't have anything left to give to others.
After six years on the job, 40 percent of them had such severe breakdowns in health that they had to change something. The average age in investment banking is 35. Many leave and take less-demanding jobs. When these highly driven leaders move on, they restructure the new existing organization to these work practices because they are so flexible. You see this now in Silicon Valley, with lawyers, doctors, journalists, and others.
What can we learn from Erhardt's passing, should his chaotic work schedule turn out to be a factor in his death?
I know it's terrible to say, but because Erhardt died in Europe, I don't think it will have the same effect as it would at the source. It will have less of an effect at the source, because the source is North America.
Work changes a person. People think: How much will I earn? What will I learn? How will this get me ahead in society? These are all important questions. But work changes you in more profound ways. Work also affects you in a biological way. You must consider all of this.
What happened to Erhardt could happen to any of us. Organizations excel at whatever they measure. Let's look at all the dimensions of work. Human well-being does matter. Take a measurement of that. If organizations attended to it as fanatically as they do profits, we'd be better off.
Join the discussion on the Bloomberg Businessweek Business School Forum, visit us on Facebook, and follow @BWbschools on Twitter.
Before it's here, it's on the Bloomberg Terminal.
LEARN MORE