Which Fast-Food Workers Hate Their Jobs the Most?
By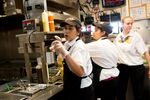 On Thursday, fast-food workers walked out once again in demanding $15 an hour, a wage that some say is attainable, while companies argue it would mean higher menu prices and fewer customers. This time the protests occurred in more than 50 cities, spreading from about seven cities during the last round of protests in late July. Organizers are calling this the largest protest ever by fast-food workers.
Job site Glassdoor.com provided Bloomberg Businessweek with employee reviews on its site for the 30 largest fast-food chains. While protest organizers say workers are walking out of McDonald's, Burger King, Wendy's, and KFC, these employers actually received better reviews than other restaurants, according to Glassdoor. In their comments, employees cited complaints ranging from pay, to work atmosphere and management, to the customers.
For context, the average rating on Glassdoor.com is 3.2. What does that mean? A 1 rating means "dissatisfied," and a 3 rating is considered "OK." According to Glassdoor spokesman Scott Dobroski, anything between 2.5 and 3.0 means employees are moderately satisfied and the company is still technically in "OK" territory, but they're teetering on dissatisfied. If a company receives a 3.6 or 3.7, employees are sufficiently satisfied.
Overall, many of the 30 largest chains posted average scores. The two largest fast-food chains, Subway and McDonald's, both had a 3.1. There are even a few companies where workers seem chipper. In-N-Out Burger, for instance, got a 4.1 rating. Chick-fil-A scored 3.7, and Starbucks had a 3.6.
Here are the lowest-scoring fast-food restaurants.
Carl's Jr.
Rating: 2.5
Employee comment: "Long grueling hours for little pay, angry and demanding customers, unreasonable expectations, lots of shift changes, unmotivated co-workers, and not very supportive management."
Little Caesar's
Rating: 2.7
Employee comment: "Low pay, no hours, little Caesar pay card deducts money every swipe."
Jack in the Box
Rating: 2.8
Employee comment: "Very stressful and very busy during lunch. Under staff[ed] at some shifts. Graveyard can be annoying because it is only the Shift Leader and cook. Rude Customers."
Hardee's
Rating: 2.8
Employee comment: "Stoned co-workers … and managers. Actually, this didn't matter. In fact, it made some of them much easier to deal with. … Everything is covered in a layer of grime and grease, and always working around a hot broiler. A lot of yelling to move faster, and to always be doing something even when there is truly nothing to be done."
Before it's here, it's on the Bloomberg Terminal.
LEARN MORE