The Dirty Laundry in a Korean Clothes Washer Dispute
By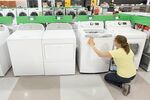 If you've purchased a beautiful new clothes washer in the past couple of years, chances are you paid more for it than in the past, thanks to an epic, ongoing trade dispute between U.S. and South Korean appliance makers.
Whirlpool, the largest U.S. appliance maker, has accused rivals LG Electronics and Samsung of dumping residential clothes washers on the U.S. market below cost, which set off a bruising tit-for-tat that's yet to be resolved. The issue flared anew today when South Korea complained to the World Trade Organization about the method the Department of Commerce used to calculate retaliatory tariffs it imposed on Korean imports.
The saga began in December 2011, when Whirlpool filed a complaint with the Commerce Department and the U.S. International Trade Commission, alleging that LG and Samsung had dumped below-cost clothes washers into the U.S. from plants in Mexico and South Korea, and that washers imported from Korea had been subsidized. "This action undermines competition, causes material injury to the appliance manufacturing industry, threatens American jobs, and ultimately harms consumers who are left with fewer product choices," Whirlpool said in a statement at the time. The washer filing came nine months after Whirlpool had formally complained about the Korean manufacturers' pricing on refrigerators.
Whirlpool has framed its effort against the Korean entrants as a bid to keep appliance manufacturing jobs in the U.S. Prices for household washing machines have been a central point of contention in the dispute, as LG and Samsung have made a strong push in recent years to grab market share for their washers, dryers, refrigerators, and dishwashers. "There are rules of the road for the market to ensure a level playing field," says Matthew Frumin, a Whirlpool attorney.
U.S. regulators largely agreed with Whirlpool's unlawful-trade claims, saying that machines made in Mexico had been sold at prices that were 33 percent to 72 percent below fair value. In July 2012, the Commerce Department imposed tariffs (PDF) of as high as 82 percent. A third Korean company, Daewoo Electronics, received the stiffest tariffs over its appliances that were manufactured in Korea, partly because the U.S. said Daewoo had failed to cooperate with the investigation. (Ironically, Whirlpool itself was subject to duties on washers it had built in Mexico; the company has since stopped sending Mexican-built washers to the U.S.)
Korean appliance exports to the U.S. have dropped more than 38 percent, from $332 million in the first half of 2012 to $203 million in the same period this year, Yonhap News Agency reported today, citing the Korean Ministry of Trade, Industry and Energy. In 2011, U.S. imports of Korean clothes washers totaled $569 million. The U.S. uses more than 300 anti-dumping and countervailing duties to protect American-made goods, such as honey and bedroom furniture, from global competition that the Commerce Department deems unfair and damaging to U.S. companies, Bloomberg News reported last year.
Whirlpool, like rivals General Electric and Sweden's Electrolux, have been criticized for moving appliance manufacturing jobs to Mexico and elsewhere where labor costs are lower. The Korean firms and Electrolux also make appliances in Mexico. Whirlpool cemented its place as the largest U.S. appliance maker by acquiring rival Maytag in 2006, giving the company about two-thirds of the U.S. clothes washer and dryer market. In the past year, Whirlpool shares have surged 75 percent.
In an e-mailed statement today, Whirlpool said it was "optimistic" the tariffs would survive an appeal and that it will "will act as necessary to protect our 22,000 U.S. employees, including 15,000 manufacturing jobs." The company has about 3,500 workers at its main clothes washer plant in Clyde, Ohio, where it says it has invested $175 million.
Before it's here, it's on the Bloomberg Terminal.
LEARN MORE