Republicans Rally Around the Sequester
Tea Partiers in Congress say the draconian cuts boost the economy
By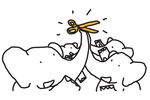 On Sept. 1 the automatic federal spending cuts known as the sequester will be six months old—which is six months older than they were ever supposed to be. Congressional leaders never believed the nine-year, $1.2 trillion cuts to federal agencies, including the Pentagon, would actually go into effect. They were intended to be so unthinkable that Democrats and Republicans would be forced to reach a budget deal by March 2013 to avoid triggering them. "Let me make clear: I don't like the sequester," House Speaker John Boehner said in February. "I think it's taking a meat ax to our government, a meat ax to many programs, and it will weaken our national defense."
As Congress prepares for yet another standoff this fall over raising the U.S. debt ceiling and writing the 2014 federal budget, Boehner and other GOP leaders say they still hope for a deal to end the cuts, which House Majority Leader Eric Cantor of Virginia has called "harmful." But a small group of House conservatives, new to Washington and aligned with the Tea Party, argue the sequester has been good for the economy. They want to leave it in place to keep slimming down the government. "I think the cuts are helping us," says Representative Mark Meadows, a freshman from North Carolina.
By helping lower the federal budget deficit, Meadows says, the sequester gives businesses confidence that Congress is "serious about getting our fiscal house in order," which he argues will lead to sustained economic growth. Kentucky Representative Thomas Massie, who arrived in Congress last November after winning a special election, agrees. "I didn't create the sequester," he says, "but if this is the only way to curb spending, then I'm fine with it." Appearing on Fox News on Aug. 17, former GOP presidential candidate and Forbes Media Chairman Steve Forbes went even further, saying the spending cuts are boosting the nation's gross domestic product. "That's one reason why we're going to get a little bit of growth this year," Forbes said.
Over the first half of 2013, the federal government—which usually contributes to economic growth through spending and employment—has been a drag on the economy, subtracting 0.8 percentage points from GDP growth, according to the U.S. Bureau of Economic Analysis. That wouldn't be a big deal if the economy were growing at around 4 percent, as it did during the mid-to-late 1990s. But GDP grew just 1.1 percent in the first quarter of 2013 and 1.7 percent in the second. It's not clear how much of that drag is the result of the sequester and how much is attributable to the earlier 10-year, $1 trillion spending cut Obama and Republicans agreed to in 2011. The government has been a brake on economic growth for most of the last two years.
Stuart Hoffman, chief U.S. economist at PNC Financial Services Group, estimates that without the sequester, government spending would have added about 180,000 jobs to the economy since March, when the cuts took effect. In July the Congressional Budget Office projected that an immediate cancellation of the sequester would boost real GDP by 0.7 percent and add an extra 900,000 jobs to the economy by the third quarter of 2014. "To say the sequester is good for the economy is wrong on a scale that's impressive," says Neil Dutta, chief U.S. economist at Renaissance Macro Research.
Boehner, who has repeatedly said the sequester should be replaced with more targeted spending cuts, has had trouble persuading Tea Party conservatives to get in line behind him over the upcoming budget negotiations. Eighty House Republicans signed an Aug. 21 letter—written by Meadows—urging Boehner to demand that President Obama defund the Affordable Care Act or face a government shutdown on Sept. 30, when Washington's authority to spend money will run out unless Congress approves additional funds. Boehner has said he won't do that.
Massie says House Republican leaders approached him in July to ask if he'd be willing to vote to kill the sequester if Democrats agreed to long-term entitlement cuts. Massie said no, mostly because he doesn't believe they'd offer cuts deep enough to make the trade worth it. The sequester is doing the job just fine: "We've done it," he says, "and the world is still rotating on its axis."
BOTTOM LINE -
The bottom line: Conservatives are touting the once-unthinkable idea that Congress should let the $1.2 trillion sequester cuts stand.
Before it's here, it's on the Bloomberg Terminal.
LEARN MORE