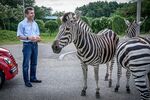 Down an unmarked path, through two electronic gates, lies the lush, 94-acre coastal estate of Bidzina Ivanishvili, the billionaire prime minister of ex-Soviet Georgia. His wealth equals 35 percent of the country's $15.8 billion economy. What Ivanishvili will do next with his billions is a hot topic in a country that has had more than its share of drama.
The businessman emerged from years of obscurity in 2011 to announce that he was financing a political coalition to win 2012's parliamentary elections against the party of Georgia President Mikheil Saakashvili. The Georgian Dream coalition—the name comes from a rap song by Ivanishvili's son—beat the president's party and took control of the legislature. Saakashvili remained president, but with the parliament in opposition hands, he had to accept Ivanishvili as his prime minister starting in October of last year. The tycoon got to name a cabinet of his own ministers; Saakashvili was isolated in the presidential palace.
Saakashvili's term ends in November, and Ivanishvili says he will step down before the new year prior to the end of his term. "I get no pleasure from politics, it's not in my character," he says, sitting on his terrace overlooking the Black Sea. Ivanishvili says he'll continue "keeping tabs on the government," though he dismisses speculation that he will be offstage, secretly running Georgia. "Why should I be an informal leader when I can be the formal leader?" he asks.
Ivanishvili certainly doesn't need a prime minister's salary. His Black Sea estate includes a private beach, two pools, two guest houses, and a menagerie of lemurs, zebras, peacocks, parrots, and flamingos. His main residence outside Tbilisi is a $50 million complex designed by Japanese architect Shin Takamatsu. His $1 billion art collection, in London for safekeeping, includes a Picasso bought for $95 million in 2006.
Ivanishvili says he's spent $3 billion of his own money in Georgia, buying boots for soldiers and patrol cars for police as well as restoring museums, theaters, and churches. He's paid for roads, hospitals, and schools in his birthplace of Chorvila. He says he is committing $1 billion to a new $6 billion private equity fund that will invest in tourism, agriculture, industry, and energy projects alongside the government. The idea is to persuade investors their money is safe in Georgia, which has a bright future as a regional trade and energy hub, says central bank chief Giorgi Kadagidze.
To Saakashvili, Ivanishvili's billions put Georgia's status as a model of democracy at risk. "If your personal wealth is a significant part of your country's GDP, then the temptation is too big to take over without proper qualifications and to monopolize," he says. Western investors have largely steered clear of Georgia since the arrests of dozens of former officials started late last year, including an ex-prime minister, after the Ivanishvili government took power. The charges were for alleged abuse of office and graft: The one trial held so far ended in the acquittal of an ex-defense minister and seven other former officials. Saakashvili himself may face corruption charges after he loses immunity on leaving office, says Ivanishvili. Saakashvili calls the accusations against him "ridiculous."
The drop in fresh outside capital has halved the country's growth rate to an estimated 3 percent this year. Growth averaged 6 percent from 2004 to 2012. Saakashvili won praise from abroad for curbing corruption, privatizing state companies, and eliminating red tape. He was also accused of cracking down on the opposition and the media. Mass protests erupted a few weeks before last year's election over leaked footage of prison guards beating and raping male inmates with broom handles.
Ivanishvili's successor as prime minister is expected to be one of his allies, allowing the billionaire to wield influence over what will probably be a weak government run by the Georgian Dream coalition, says Alexander Rondeli, a Georgian political analyst. Ivanishvili is a "really smart" businessman who had to resort to "ruthlessness" at times in Russia, where he made a fortune in the 1990s, according to former Georgian Economy Minister Kakha Bendukidze. Ivanishvili co-founded a bank that invested in privatized mines and factories. In 2003 he returned home.
Saakashvili stripped Ivanishvili of his citizenship in 2011: The parliament changed the constitution to allow European Union citizens to occupy political office (Ivanishvili had obtained a French passport earlier). Authorities later briefly impounded a Georgian bank that the billionaire owns. "He wants to live in a Georgia which is safe for him, his family, and his wealth, especially taking into account that his wealth is above any other wealth in Georgia," says Bendukidze. In politics "he will become like a godfather."
Before it's here, it's on the Bloomberg Terminal.
LEARN MORE