Bloomberg View: There's No Need to Fret About the Debt Ceiling
Congress remains divided on spending, but both sides have reason to compromise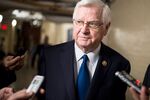 By mid-October, according to the U.S. Department of the Treasury, the U.S. will reach its borrowing limit. Congress must act "as soon as possible to protect America's good credit," says Treasury Secretary Jack Lew. We've all heard these warnings before, and we pretty much know the script. We even have a pretty good idea how it will end.
The next round of debt and deficit negotiations will take place in the context of modest but steady growth in a $16.6 trillion economy and a declining budget deficit equal to 4.2 percent of gross domestic product as of June, compared with more than 10 percent of GDP in 2009. Come September, the real fight will be over how much more marginal savings can be wrung from domestic programs. It will be a game of small ball, with a savings target of about $200 billion in a federal budget of $3.8 trillion. The funds will probably come from farm subsidies, fees charged for government services, increased cost-sharing by wealthier Medicare recipients, and possibly a switch to a cost-of-living formula that slows increases in entitlement spending.
Democrats and Republicans will seek to replace some of the automatic spending cuts in Pentagon programs imposed after the two sides failed to reach a budget compromise. Yet most 2014 spending would continue at the sequester level, allowing lawmakers to claim they ended the mindless cost-cutting while still counting the savings.
The first move will be made by House Committee on Appropriations Chairman Hal Rogers of Kentucky, who will press for a one- or two-month extension of government operations, pushing off the Sept. 30 deadline. The battle over the budget will then coincide with the battle over the debt ceiling.
That isn't as scary as it sounds. Lawmakers' chief priority is political survival in 2014, and that means keeping the difficult votes to a minimum. A single vote to raise the debt ceiling, end sequestration, and trim the deficit allows legislators to claim they stuck to their principles—without raising taxes or harming the investments needed for the economy of the future.
BOTTOM LINE -
To read Stephen L. Carter's advice for college freshmen and Albert R. Hunt on Syria, go to: Bloomberg.com/view.
Before it's here, it's on the Bloomberg Terminal.
LEARN MORE