Assad's Syria Chides Bread Lines as Civilians Brace for Hit
Dana El Baltaji and Donna Abu-Nasr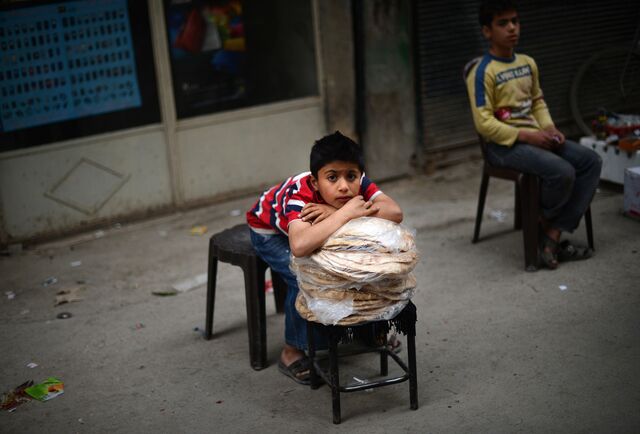 Syrians are forming bread lines and stocking up on other food as they brace for a possible U.S.-led attack on their soil.
The Syrian government called the hoarding of bread "unjustified," state-run news agency Sana reported today, citing Minister of Internal Trade and Consumer Protection Samir Amin. The government is ready to provide more flour to meet the increased demand, he said.
Syria's nominal domestic output has declined about 50 percent after more than two years of civil war from about $60 billion at the end of 2010, according to estimates cited by Beirut-based Byblos Bank SAL. The nation's economic woes are set to worsen as the U.S. and its allies make preparations to strike Syria after Assad's forces allegedly used chemical weapons in rebel-held territory last week, killing more than 1,300 people.
A Syrian who didn't want to be identified for fear of retribution said people were buying larger quantities of food in anticipation of an attack.
Citizens of all ages are talking about the impending attack, according to lawyer Mahmoud Merei. "Syrians are tired economically and psychologically," he said by telephone from Damascus today. "They've offered a lot of sacrifices. The country has gone backward 30 to 35 years. For the strike to come on top of it, it's tough."
'Far Worse'
Syrian Prime Minister Wael al-Halaqi said state institutions should be on full alert to deal with any emergency. "The government is working hard to guarantee food and medical supplies and there are strategic reserves of all products and bakeries will continue to work round the clock to meet citizens' demands," he said, according to Sana.
"The economic situation is going to get far worse, and the ones who will suffer are the people," John Sfakianakis, chief investment strategist at MASIC, a Riyadh-based investment company, said by telephone today. "The currency will continue to depreciate, inflation will rise, and with sanctions in place, the country's foreign reserves will soon be wiped out."
Syria's central bank is still supplying banks and exchanges with dollars at a rate of 175 Syrian pounds, Sana reported today, citing Governor Adib Mayaleh, as it seeks to undermine the black market. While Syrian citizens have access to that exchange rate, they can only buy as much as $10,000 a year each for non-commercial purposes, Mayaleh said in an interview earlier this month.
Financing Imports
The black market rate for the pound was fluctuating today between 250 and 275 to the dollar, according to a money changer who asked not to be identified, weakening from 240 yesterday. The official rate was 126.31 yesterday, according to the Syrian central bank.
The central bank is continuing to finance imports, Mayaleh was cited as saying by Sana today. That may not last for long, according to MASIC's Sfakianakis. With international sanctions already crippling the economy, Syria is forced to deal with only a handful of trade partners, Sfakianakis said.
"You end up paying a lot of money for what you're importing, and with confidence in your currency declining, you're forced to use foreign currencies and goods for trade deals," and Syria is running out of both, he said.
The nation's foreign exchange reserves "are close to being exhausted," the Economist Intelligence Unit said in an Aug. 23 report. The official currency rate may depreciate to an average of 145.8 pounds per dollar in 2014, the EIU said. The official rate was about 47 pounds per dollar before the war began.
The uprising against Syrian President Bashar al-Assad that began in March 2011 has killed more than 100,000 people, and more than 2 million refugees have poured into neighboring countries, according to the United Nations.
Before it's here, it's on the Bloomberg Terminal.
LEARN MORE