King, Obama, and the Real Power of Role Models
By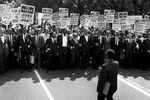 The 50th anniversary of Martin Luther King Jr.'s "I Have A Dream" speech has prompted a lot of reflection on the lack of economic progress for African Americans. With black unemployment about double the rate for whites and poverty rates that are three times as high, there's plenty of fodder for disappointment.
Yet the attention paid to King's speech and the 1963 March on Washington demonstrates his incredible staying power as a role model. He helped inspire a generation of African Americans not only to grab hold of their civil rights, but also to use them to reach new heights in politics, business, and other realms. It's a power that other leaders have sometimes been reluctant to tap. President Obama, who keeps a bust of the civil rights leader in his office, has spoken about the impact King had on him as a young boy growing up in Hawaii. He is set to give remarks from the steps of the Lincoln memorial today, as King did 50 years earlier.
Let's hope the president will use the moment to send a particular message of hope to African Americans, especially young men who don't have enough role models of success. Obama knows how critical those people can be. He talked about the importance of fathers in his inspiring 2010 Father's Day speech, a rare moment of candor about racial inequality during a term when he stayed largely silent on the subject. With a weak economy, divided Congress, and desire to get reelected, it's hard to fault his reticence at the time—and he's shown far more willingness to talk about race and inequity this time around.
Many of this country's greatest leaders came of age during the era of civil rights, from Supreme Court Justice Clarence Thomas and top litigator Ted Wells to such chief executives as Ken Chenault of American Express and Merck's Ken Frazier. A generation of African American women rose with them. Like Obama, they understand the symbolic power their success has had for others. It's yet another reason to continue fighting for diversity in everything from who gets a chance to attend top schools to who's held up as a pundit on TV. You cannot be what you cannot see.
I was reminded of that a few years ago when the high school-age daughter of a dear friend—an immigrant from Jamaica—was stunned to meet a black woman who worked as a lawyer at an elite law firm. The student had gone to meet some lawyers and explore her interest in the profession, and she assumed the black woman who greeted her was a secretary. As a freshman at Quinnipiac University today, she finds inspiration from meeting that lawyer and cherishes a small trophy that Justice Thomas asked me to give her. He said it was to help her through times when becoming a lawyer seemed a distant dream.
With both an MBA and a law degree from Harvard, Ted Wells could have taken many routes to success. He's active in politics and cares deeply about civil rights, having chaired the NAACP's Legal Defense Fund. One reason he chose to rise at a white-shoe law firm like Paul, Weiss, Rifkind, Wharton & Garrison, where he co-chairs the litigation department, was the power of that role model. He wanted to make it normal, he once told me, for people to see that one of the country's top litigators happened to be black. Today they do. Wells's expertise in handling complex and often highly charged cases for such clients as Citigroup, Merck, Scooter Libby, Eliot Spitzer, and Exxon Mobil has earned him numerous recognitions as one of the nation's top trial lawyers.
King dreamed of a day where skin color didn't matter and success came in many hues. It can happen. The most memorable image of the U.S. Open so far isn't of the Williams sisters, who dominated the opening rounds, but of a 17-year-old qualifier named Victoria Duval. Her gleeful jump after defeating Samantha Stosur didn't just give the world an image of fresh-faced joy—it gave young black women more proof that there's a place for them in what was once a sport reserved for the wealthy. On the court, Duval calls herself a warrior. Off the court, she says, her goal is to be a "good role model." In people like her, King's dream lives on.
Before it's here, it's on the Bloomberg Terminal.
LEARN MORE