Irish Pubs Laden With $2.7 Billion of Debt as Sales Plunge
Finbarr Flynn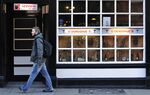 Irish pubs are laden with 2 billion euros ($2.7 billion) of debt, after bar sales fell by a third from the height of the nation's Celtic Tiger boom, according to Allied Irish Banks Plc.
"The pub sector has borne the brunt of the recession in Ireland's domestic economy," the Dublin-based bank said in a report carried out in conjunction with the nation's bar owners. "One in four pubs have reduced their weekday opening hours."
Ireland is struggling to emerge from a recession after a real-estate bubble burst and its banking system came close to collapse. Unemployment tripled, emigration has resumed and consumer spending is still falling. Half of pubs surveyed for the bank reported a drop in sales last year.
"The reality is that the pub sector in Ireland is being rationalized," said Donall O'Keeffe, chief executive officer of the Licensed Vintners Association, which represents about 700 Dublin pubs, or 90 percent of the total. "There is simply not enough consumer demand to support the 7,400 pubs plus another 1,000 hotels nationally."
A widening gap between pub prices and liquor stores, tougher drink-driving laws and a smoking ban have exacerbated the effect of the recession, the bank said.
Since 2007, 11 percent of Irish pubs have closed, and that trend may continue, according to O'Keeffe. Sixty percent of bar owners said it'll take more than five years for the industry to improve, according to today's report.
Some 40 percent of Dublin publicans recorded an increase in sales last year, compared with 26 percent in the countryside, according to a survey for the bank.
Amarach Research conducted a telephone survey of 200 publicans throughout Ireland last month, with a 50-50 split between urban and rural pubs for the report.
Before it's here, it's on the Bloomberg Terminal.
LEARN MORE