Indian Stocks Rally as Traders Close Bets Before Futures Expiry
Santanu Chakraborty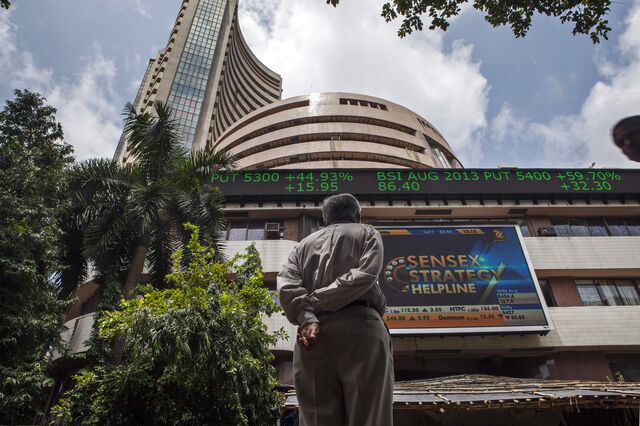 Indian stocks rebounded from the lowest intraday level in almost a year as some traders closed bearish bets before derivatives contracts expire tomorrow.
Reliance Industries Ltd., the owner of the world's largest refining complex, gained 1.1 percent after earlier falling 4.9 percent. ICICI Bank Ltd., the nation's biggest private bank, pared a decline to 0.8 percent from 5.7 percent. Software exporters Tata Consultancy Services Ltd., Infosys Ltd. and Wipro Ltd. gained at least 2 percent on speculation a weakening currency will boost earnings. Indian derivatives contracts expire on the last Thursday of every month.
The S&P BSE Sensex rose 0.2 percent to 17,996.15 at the close in Mumbai. The gauge had tumbled as much as 2.9 percent as the rupee weakened past 68 per dollar to a record low and oil prices surged on concern that supplies in the Middle East may get disrupted. Crude slipped from its intraday high, while the rupee pared losses, fueling the rebound in Indian shares. The Sensex's valuation has dropped to 13 times estimated profit from 14 times a month ago, according to data compiled by Bloomberg.
"There is some value buying by domestic funds," Jagannadham Thunuguntla, chief strategist at New Delhi-based SMC Global Securities Ltd., said in an interview today. "This type of volatility is common in the run up to the expiry."
The Sensex's 30-day volatility measure, a gauge of price swings, rose to 23.2, the highest level since January 2012, data compiled by Bloomberg show.
Foreign investors sold a net $86.1 million of shares on Aug. 26, paring this year's net inflow to $11.8 billion, still the second-highest among 10 Asian markets tracked by Bloomberg.
Syria Unrest
The MSCI Asia Pacific Index slumped, with the regional benchmark index heading for the lowest close in two months, on concern the U.S. will take military action against Syria for using chemical weapons.
Brent crude, the benchmark for India, was 0.8 percent higher at $115.27 a barrel after rising as much as 2.6 percent. It has increased 7.1 percent in August to trade at a record in rupee terms, boosting costs for a country that buys almost 80 percent of its oil from overseas.
The nation is also the world's top buyer of bullion. Gold for October delivery rose 2.7 percent to a record 34,650 rupees per 10 grams on the Multi Commodity Exchange of India Ltd. today.
Tata Consultancy, the nation's biggest software exporter, surged 3.8 percent to 1,907.9 rupees. Infosys added 2 percent to 3,116.25 rupees, while Wipro advanced 3.6 percent to 471.45 rupees. The S&P BSE IT Index gained 2.7 percent, the most among all sectoral groups.
Demand Cycle
"Currency depreciation improves longer-term competitive advantage and market share gains" for software exporters, Diviya Nagarajan, an analyst at UBS AG wrote in a note today. "We remain positive on Indian IT as we believe the sector is at the start of a demand recovery cycle."
Reliance Industries advanced to 811.80 rupees. Oil & Natural Gas Corp. fell 6 percent to 243.70 rupees, the lowest close since May 2012. The company said it plans to sell its 25 percent stake in a Gujarat petrochemical project.
Mortgage lender Housing Development Finance Corp. tumbled 4.9 percent to 652.75 rupees. ICICI Bank fell to 796.35 rupees, the lowest close since June 5, 2012. The S&P BSE Bankex index of lenders lost 1.3 percent to its lowest since Jan. 9, 2012.
Dollar-based investors have lost 25 percent from Sensex shares in 2013, data compiled by Bloomberg show. The index has declined 7.4 percent this year.
Before it's here, it's on the Bloomberg Terminal.
LEARN MORE