Yogurt Nemesis: Danone Plots Revenge Against Chobani
by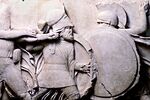 Gird your low-fat loins, the Greek yogurt war is far from over.
Danone, the French food giant, was cut deeply by Chobani's out-of-nowhere rise over the past six years to dominate the category and unseat the supreme yogurt leader. But Danone has rallied behind its new Oikos brand and is wresting back sales. Chobani's share of the U.S. Greek yogurt market has fallen for 18 straight months—from roughly half to 39 percent—while Danone's has jumped to 29 percent.
"What has happened in the U.S. is an indication of Danone's perseverance," Jon Cox, head of European consumer equities at Kepler Cheuvreux, told Bloomberg News. "They've shown that when they see the problem, they move very quickly."
Indeed, Danone's resurgence is a model for any consumer-goods giant looking to beat back a younger, swifter rival. Here are the four parts of its comeback playbook:
Rebrand your rival product. Danone has been making Greek yogurt for a while now, but until last fall it was called Danone Greek—which, let's be honest, has none of the exotic flair of Chobani, a variation on the Turkish word for shepherd. It doesn't sound new. To fix the problem, Danone smartly slapped Oikos on its Greek yogurt, a term meaning household or family. Want to really seem Greek to American shoppers? Add some sharp marble columns on those plastic yogurt cups. Danone went with Doric instead of Corinthian—you know, simple and classy.
Expand the menu. Startups with a great idea are prone to tunnel vision. Giant food companies, however, have hundreds of product-line managers hungry to get their hands on a hot trend. Danone this summer started mixing its Greek yogurt into dips and is running a trial of frozen varieties. Who wants yogurt when they could have froz-yo?
Squeeze prices. It remains to be seen how brand loyal—or "sticky"—yogurt fans are, but Danone is certainly cutting them a deal. Online grocer FreshDirect sells Oikos for about 12 percent less than Chobani on a per-ounce basis. Not surprisingly, Chobani has responded with aggressive discounts of its own.  Some 43 percent of its sales this year were marked down, according to a recent report from Sanford Bernstein. Price cuts hurt everyone, but they hurt small players more: By revenue, Danone remains more than 20 times bigger than Chobani.
Partner up. Last month, Danone struck a deal to pump its Greek yogurts into Starbucks cafes under the name "Evolution Fresh, Inspired by Dannon." Starbucks would probably be happy to strike a similar deal with Chobani, but the bigger company offers A-level supply-chain confidence. Chobani, of course, has become a massive operation in its own right, but the young company is still dealing with expansion and recently had to build a $450 million plant in Idaho to make sure it had enough milk.
Sanford Bernstein Senior Analyst Andrew Wood said the market is big enough for at least two Greek yogurt gods, which seems a reasonable expectation. With a rich taste from high protein and almost no fat, Greek-style offerings now account for almost half of America's $7.6 billion yogurt market; sales have grown by an additional 44 percent this year. That's far slower than growth over the past few years but it's a trend most executives would kill for—or at least fight for.
The only loser in the scrum, according to Wood, might be Fage, which has seen its share of the U.S. market dwindle from virtually 100 percent to less than 10 percent. Ironically, Fage is the only Greek company in the bunch.
Before it's here, it's on the Bloomberg Terminal.
LEARN MORE