Syria Vows Defiance as U.K. Commons Recalled Over Attack
Dana El Baltaji, Thomas Penny and Robert Hutton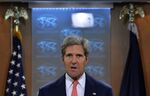 Syria vowed defiance as Britain's Parliament was recalled to discuss possible military action over an alleged chemical attack near Damascus and Defense Secretary Chuck Hagel said U.S. forces are "ready to go."
Syrian Foreign Minister Walid al-Muallem said today the government won't surrender and its defenses will "surprise" if there are military strikes by the U.S and its allies. Prime Minister David Cameron announced that U.K. lawmakers will be summoned back from their summer recess four days early on Aug. 29. Hagel told the BBC that U.S. has "assets in place" to fulfill whatever orders President Barack Obama might give.
Cameron's "view is that it's important that when we see a crime of this sort -- the use of chemical weapons against a regime's own people -- that there needs to be a response, and that response needs to come from the international community," the premier's spokesman, Christian Cubitt, told reporters in London. No final decision on the nature of the response has been taken, he said.
Cubitt said British armed forces are making contingency plans following the alleged attack in the Ghouta area outside Damascus on Aug. 21 that opposition groups say killed more than 1,300 people. The U.K. and U.S. have said they are convinced chemical weapons were used and that Syrian President Bashar al-Assad's government is responsible.
Cameron said in a Twitter posting that "there'll be a clear government motion and vote on U.K. response to chemical weapons" when lawmakers meet.
Deterrence 'Endgame'
"In terms of endgame, this is about looking at how we deter the use of chemical weapons," Cubitt said. He said governments may not wait for a report from United Nations inspectors who visited the area yesterday before acting. The British government is "looking at what a proportionate response would be," Cubitt said.
"In our opinion, I think the opinion of the entire world community, Syria used chemical weapons against its own people," Hagel told the BBC. "I think most of our allies, most of our partners, most of the international community that we've talked to -- and we have reached out and talked to many -- have little doubt that the most base international humanitarian standard was violated in using chemical weapons against their own people."
Syria is "hearing the drums of war all around us," Muallem said at a televised news conference in Damascus. We have the means to defend ourselves, and we will surprise people with them. We must believe in victory."
The government hasn't obstructed the UN probe into its alleged use of chemical weapons, he said, adding that the U.S. may be carrying out psychological warfare.
Stocks Slump
Middle Eastern financial markets slumped on the prospect that international intervention may escalate the conflict. Dubai's stock index plunged the most since 2009 and four Gulf stock indexes were among the world's ten worst performers today. Israel's shekel posted the biggest two-day loss in more than three months.
West Texas Intermediate crude rose to the highest level in more than three weeks on speculation that tension in Syria will disrupt Middle East supplies. The region accounted for 35 percent of global crude output in the first quarter of 2013, according to the International Energy Agency.
More than 100,000 people have been killed in Syria's 2 1/2-year civil war, and more than 2 million refugees have poured into neighboring countries, according to UN estimates.
'Cowardly Crime'
U.S. Secretary of State John Kerry denounced the attack yesterday as a "cowardly crime." Muallem said he told Kerry that allegations the government carried out the attack are fabrications.
"The question is not whether the U.S. will respond, but how it will respond," Richard Haass, president of the Council on Foreign Relations in New York, said on a conference call with reporters yesterday.
Kerry didn't say whether the U.S. would seek a mandate from the UN for potential responses. Russia, an ally of Syria that has a veto on the UN Security Council, has blocked previous UN action against Syria. U.K. Foreign Secretary William Hague said yesterday that a response would be legal even without the full backing of the Security Council. Hague has postponed a visit to Sweden scheduled for tomorrow, his office said.
Military intervention without Security Council approval would be "a gross violation of international law," Russian Foreign Minister Sergei Lavrov told reporters yesterday. Russia has urged the U.S. to "show common sense," the country's Foreign Ministry said on its website today.
'Great Consequences'
Iran, another Syrian ally, warned that a military strike against Syria will have "great consequences for the region," Foreign Ministry spokesman Abbas Araghchi told reporters in Tehran today.
UN inspectors braved sniper fire yesterday to collect evidence in the area of the attack, and to interview survivors, witnesses and doctors, according to UN Secretary-General Ban Ki-moon. The continuation of the probe will be delayed for a day, the UN said.
An initial review of the site suggests that Assad didn't order the attack and that a brigade over which he may have lost control instead launched the strike, according to a UN official who asked not to be identified discussing the inquiry. Kerry said yesterday the UN scientists are charged only with determining whether chemical arms were deployed, not who was responsible.
'Red Line'
Obama said a year ago that the use of chemical weapons by the Assad regime would cross a "red line" regarding U.S. policy toward Syria.
Haass, of the Council on Foreign Relations, said the U.S. is most likely to launch missile strikes on Syrian chemical weapons-related targets while trying not to be dragged into the civil war.
Britain has a range of military assets and personnel in the eastern Mediterranean, including a Royal Air Force base at Akrotiri on the island of Cyprus. Four warships, including HMS Bulwark, an assault ship, and HMS Illustrious, an aircraft carrier, are taking part in Operation Cougar, a long-planned training exercise in the region.
The Sun newspaper has reported that one of the U.K.'s Trafalgar class of hunter-killer submarines has been seen off Gibraltar, at the western entrance to the Mediterranean.
Before it's here, it's on the Bloomberg Terminal.
LEARN MORE