Tesla Is Now Worth $20 Billion
by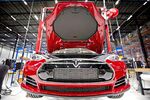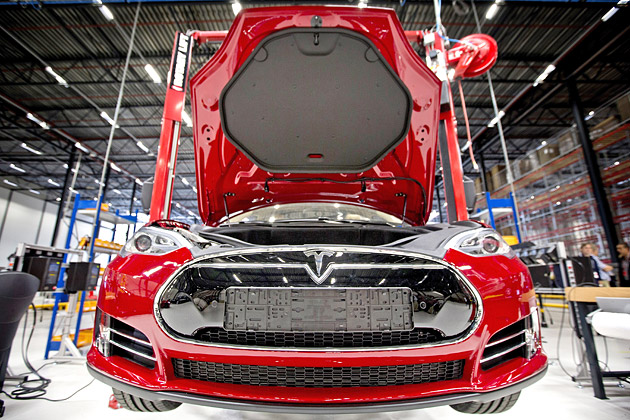 And just like that, Tesla Motors sports a $20 billion market value.
That's a mind-boggling milestone for a 10-year-old car maker currently targeting delivery of just 21,000 luxury sedans this year. While Tesla has 1 percent of Ford's U.S. monthly sales, the electric car company already has nearly a third of Ford's $64 billion market capitalization. Investors value Tesla at roughly 41 percent of GM's $48 billion market value. Indeed, Tesla is now worth more than Suzuki Motor, Mazda Motor, and Fiat, the majority owner of Chrysler Group, according to data compiled by Bloomberg.
Tesla shares, which are up 390 percent this year, change hands at an otherworldly 260 times estimated 2013 earnings, versus 10 for General Motors and 11 for Ford. The meteoric rise of Tesla has just devastated short-sellers.
What hasn't gone right this year for Elon Musk's baby, which cannot churn out enough $70,000+ Model S sedans to meet demand? Motor Trend named the flagship its 2013 Car of the Year. Consumer Reports in May admitted it was among the best cars it ever tested—news Tesla parlayed, along with its first-ever quarterly profit, into an opportunistic secondary public stock sale that allowed the company to raise more than $1 billion. That money was plowed back into the enterprise and used to pay off a U.S. Energy Department loan nine years early.
And the hits keep coming. Last week, the company was able to boast that it literally destroyed National Highway Traffic Safety Administration crash and safety tests. This week, the stock broke an all-time high on news that Tesla marked a California sales surge of more than 33,000 percent in a year to make its Model S the third-best-selling luxury sedan in the biggest U.S. market—behind only models by luxury veterans Mercedes and BMW. During the first half of the year, Tesla outsold Porsche, Volvo, Lincoln, Land Rover, and Jaguar in California.
Overseas, Tesla just opened a factory in the Netherlands, where eager Dutch, Belgian, and French customers are taking delivery of the hotly awaited Model S. And China beckons: In Hong Kong, at least 300 prospective customers have plunked down deposits of $5,000 to $42,500 to reserve Teslas, even though the company has yet to price the car for the market.
Investors who are long Tesla at $20 billion are betting on the depth of ambition inside Chief Executive Officer Elon Musk, whose net worth has more than tripled this year, to $8 billion. Last year, when Tesla was worth just $3 billion, its board gave Musk options to buy 5.3 million shares at $31.17—they now trade at $168—but with a huge catch: He could exercise all his options only when Tesla's market capitalization hit $43.2 billion, and 10 specific "operational milestones" had to be achieved by the year 2022. "To give some perspective on these targets," the board went out of its way to point out in its proxy statement, "note that Ford and General Motors [at the time] had market capitalizations of approximately $53 billion and $40 billion, respectively."
On the market-cap front, Musk is nearly halfway there.


Before it's here, it's on the Bloomberg Terminal.
LEARN MORE