Six Lessons From the Life of NYSE Pioneer Muriel Siebert
by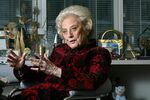 As the first woman to buy a seat on the New York Stock Exchange and the first to serve as New York's superintendent of banking, it's tempting to celebrate Muriel Siebert for the barriers she broke. But the legacy of Siebert, who died on Aug. 24 at the age of 84, goes beyond her having been a role model for other women. When friends and colleagues gather at Manhattan's Central Synagogue on Tuesday to honor the Wall Street pioneer, they'll reflect on how she lived her life. Some lessons:
Don't retire. Siebert bristled at the idea that she would ever stop working. Her retirement plan, according to longtime friend and board member Jane Macon, was to be "carried out boots first." That didn't make Siebert oblivious to the need to create a succession plan at the brokerage firm she built or to give others opportunities to lead, but she understood the power of staying active and engaged. While her passion for the business kept her motivated, it wasn't the only reason she continued to work. She felt there was more to do, whether it was expanding financial-literacy programs or increasing transparency on Wall Street. As a result, she continued to rack up fresh accomplishments until shortly before her death.
Don't settle. Like a lot of women, Siebert was paid less money than men in similar or even more junior roles. The difference is that she refused to put up with it. She lobbied for more money, switched jobs, and ultimately went into debt to buy the NYSE seat in 1967 that let her reap the full rewards of her efforts. She told Fortune's David Caplan that she broke up with the man she almost married because she didn't want to live in Canton, Ohio. (Instead, she moved alone to New York.)
Control your own money. Siebert's passion for financial literacy stemmed from seeing the consequences of not having it. As superintendent of banks, she met teenagers who had to declare bankruptcy because of credit-card debt. Siebert met women, rich and poor, who didn't know how to create wealth because they'd never managed or earned their own money. It inspired her to develop a program to teach basic financial skills and preach the importance of becoming fluent in the language of money. Siebert was especially focused on the importance of financial education for women, notes Susan Stautberg, an entrepreneur and co-founder of WomenCorporateDirectors.
"She saw how women often went out in the world without a handle on their finances," says Stautberg.
Control your story. Siebert cherished her reputation as a woman who defied convention, even calling her 2002 memoir Changing the Rules. Yet she also wasn't above tinkering with details that might weigh her down. When one brokerage house refused to hire her because she hadn't completed her college degree, she lied to another and said she had. (She later said it was the only way to get a foot in the door.) Siebert said she was born on Sept. 12, 1932, when she was actually born four years earlier. Whether Siebert herself was insecure about her age is open to debate. What's clear is that she came of age in a era when subtracting years from one's age was the norm for women, driven in part by the discrimination they faced as they got older.
Speak truth to power. Despite changing some aspects of her own story, Siebert never lost sight of the need to regulate the industry she loved and to protect consumers from potential abuses. When she saw how easy it was to get around certain rules, she talked about it. When junk bonds came into vogue in the 1980s, she testified in Congress that they should be labeled as "hazardous to your financial health." She has long erred on the side of greater transparency for Wall Street and expressed concern about its growing reliance on esoteric products that nobody understood.
Play to your strengths. With all the attention she got for being a pioneer, it was sometimes easy to forget that Siebert was also extremely good at her job. She did her homework. She loved to dig into the numbers. She understood market trends and human behavior. She was candid about her weaknesses and confident about her strengths. She loved to compete and win, but not if it meant being unfair. Having forged her own path in finance, she was determined to make the playing field more fair. Although celebrated as a pioneer in finance, Siebert's greatest achievement may be in giving others the tools to succeed there, too.
Before it's here, it's on the Bloomberg Terminal.
LEARN MORE