New York Times: We've Been Hacked
by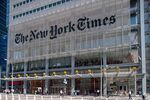 The New York Times' website is down for the second time this month, and this time the company is saying it's a result of a malicious attack.
The site began having problems at around 3 p.m., according to a company spokesman. Two and a half hours later it was still down. Fingers quickly pointed to the Syrian Electronic Army, a pro-government group that's attacked various media companies in the U.S. The group claimed on Tuesday that it had gained access to Twitter's registry account, although no changes were visible on the social networking site.
To date, the Syrian Electronic Army's actions have been a strange mixture of earnest political activities and mischievous pranks, according to a profile in the Verge. The group has taken control of E! Entertainment Television's Twitter feed and sent phony tweets claiming that Justin Bieber is gay, and also seized the Associated Press's account to announce that President Obama had been injured in an explosion, a report that sent the markets momentarily reeling. And it boasts impressive technical skill. According to an April report by Hewlett-Packard, "The SEA has been touted in underground circles as one of the top 10 most skilled hacking teams in the world."
With 32 million unique visitors in July, NYTimes.com is the 33rd-largest Web property in the U.S., according to ComScore. When the newspaper's site was down earlier this month, it distributed some stories via Facebook. This time it used Facebook to point readers to stories that were hosted on a separate server with a stripped-down presentation.
Meanwhile, the Wall Street Journal has jumped into action, taking down its paywall to draw wayward readers.
Before it's here, it's on the Bloomberg Terminal.
LEARN MORE