Nascar Meets the Flip Side of the ESPN Business Model
The perils of lame duck status with the market leader in sports broadcasting.
By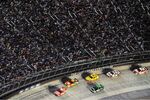 In July, NBC snagged the rights to broadcast the latter half of the Nascar season, beginning in January 2015. The 10-year deal, for a reported $4.4 billion, will mark the end of the racing circuit's eight-year partnership with ESPN and its smaller deal with Turner Sports. On Monday, Sports Business Journal reported that both ESPN and Turner are now in talks with Nascar to get out of their agreements a year early.