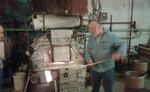 "Rust Belt Chic" is a movement. That's according to a new online magazine out of Cleveland, Belt, that aims to address the highly specific and often superficial attention paid to a wide swath of deindustrialized America.
Last year, Anne Trubek and Richey Piiparinen set out to publish Rust Belt Chic: The Cleveland Anthology, a collection of essays that explores life in Cleveland beyond the easy shorthand of manufacturing, ruin, and renewal. The project started out as a bit of a lark, but they knew they'd hit a nerve when they received 80 submissions in three weeks, "including ones that came to us from people who don't consider themselves writers—politicians like Jim Rokakis and Kenyon College President Sean Decatur," says Trubek. They also received pieces from established writers such as Pulitzer Prize-winning journalist Connie Schultz and food writer and cook Michael Ruhlman.

The book was a success, and people started asking Trubek and Piiparinen what would come next. Belt is their answer. Its official launch was last Friday, with a party at St. John's Parish Hall, a recently restored church in the historic Ohio City neighborhood. Belt's beta site will be up until September 9, when the first issue is released.
In one of the first stories published on the site, Piiparinen explains why "Rust Belt" is not a pejorative:
There is a growing movement of Rust Belt pride taking hold, of which I am a part. It is not false pride, but a pride derived from accepting that the region has become rust. This 'rust belt chic' movement is immeasurably beneficial to the psychogeography of the region… We need to take pride in being part of the 'Rust Belt' in order to move forward.
We asked Trubek, Belt's editor-in-chief and a Cleveland resident, what she hopes to accomplish.
Tell us about Rust Belt Chic: The Cleveland Anthology, the book that was the precursor to this new project.
The impetus was twofold: I had been working with writers in town, and invested in creating a Cleveland non-fiction writing community. Richey had been writing about Cleveland, as well as authoring research studies as part of his work as an urbanist. His work was catching the attention of the national press, which was interviewing him for pieces on "What's going on in Cleveland?" Richey and I said: Well, why don't we tell people what's going on in town ourselves? And in our own words?
The book is a collection of 38 essays (and 50 in the e-book version) about Cleveland. The essays range from coming-of-age stories (going to the Indians games with Dad, working in the steel mills), history (such as the amazing, still-operating Rose Iron Works), culture (a profile of Harvey Pekar, a story about an African-American recording studio), and commentary ("why I hate/love Cleveland"). Taken as a whole, the book tries to define what makes Cleveland unique, why it is currently appealing to twenty-somethings as a place to relocate to and forty-somethings who grew up here, moved away and are moving back, and how we would like the city to develop moving forward: by bringing the past with us, and taking advantage of our specific, post-industrial sense of place, rather than, say, ape what has been done in Portland and Brooklyn. We'll never be Portland. We're Cleveland. We need to own that.
In his essay, Richey Piiparinen describes 'Rust Belt Chic' as a movement, something that is coming from the inside out in Cleveland, and critical to the region's psyche. Can you elaborate with more specific examples of what you are seeing that is different from previous efforts at urban revitalization?
Richey is the expert here, but his main point is silver bullet answers that are essentially "copycat" urbanism, such as casinos, convention centers, and beautification projects, won't work. In the end, they sub-urbanize the city into more sterile environments. Cleveland needs to grow from its own intrinsic assets. The Rust Belt, and Cleveland, have a strong sense of place. Building on that will lead to more effective urban development and design.

Neighborhood-based development is a good example of "rust belt chic." For instance, The Happy Dog bar in Detroit Shoreway is a great example of a place that combines the Eastern European tavern culture of Cleveland—it serves only hot dogs, for five bucks a pop, and lots and lots of beer—with incredible cultural programming, including a monthly discussion with leading scientists, a reading series, and a monthly classical music program. They just put out a double vinyl record of group from the Cleveland Orchestra performing live.
You mention in your mission statement that your region deserves more serious attention and consideration than the occasional coverage generated by "outsiders who fly in for the weekend to report on colorful sports fans and declining property values." Isn't that pigeonholing in and of itself?
Good point. But the point is simple: People across the nation are interested in what's happening in the Rust Belt. It's becoming a topic of discussion for urbanists and people involved in the arts, especially. Experienced writers who live here are the best-qualified people to write about these new developments for the nation—not as boosters, of course, but as journalists. There are many of us here and we are good.
The Cleveland Plain Dealer laid off a third of its staff last month. Is this the time for a new kind of publication? How, if at all, will you contribute to the gaps?
We are not a newspaper, and have no pretensions of becoming one. We are going to focus on a few things we know we can do well: intensely and well-edited long-form journalism, commentary, and first-person essays.
It is a good time because we have a surfeit of writerly talent in town and a dearth of outlets. And we will run long, reported features, the type of story one used to find in newspapers but have been rarer of late: on demolitions, race relations, and demographic trends, for example.

We began with people paying for our content, as they say—they plunked down $20 for a book. People in town get who we are and what we are trying to do and they have already shown that to us by buying memberships at a great clip before we are even live. We will be able to expand our focus from an initial lens on Cleveland per se to a greater Rust Belt take, with both our books and our web publication (Rust Belt Chic: The Detroit Anthology is in early stages of discussion). I think we have a good business plan—one that combines both old school models (buy a subscription! become a member!) with new ones (read it for free on the web).
What are some of the stories you're working on now?
Our first issue is queued up and ready to go and it's fantastic. We have a deep dive on the Anisfield-Wolf Awards, a 78-year-old Cleveland-based book award for works that address issues of racism, which has an incredibly high caliber of past and present awardees and famous jurors but an oddly low profile in town and the nation. And we have a hilarious essay, "S&M in the CLE" by novelist Alissa Nutting, whose book Tampa has been the talk of the literary world this summer.
Later this fall, we'll be running a "Where are they now?" take a on three people who lost their homes in the foreclosure crisis, a piece on the history and currently thriving health of the Cleveland Museum of Art pegged to the troubles the Detroit Institute of Art is having (both are robber baron-founded institutions), a piece about the large Orthodox Jewish population in town, and something on the very difficult and controversial task of demolishing the vast numbers of empty houses in town. Uplifting and depressing—the themes of our pieces will be running the gamut. But so far, the quality is pretty damned consistently high.
Top image: A local artist and metal worker named Mike "Mac" McNamara at a glass blowing studio called the Glass Bubble Project on W. 25th in Cleveland. (Richey Piiparinen)