The United Nations Isn't Failing—Its Members Are
By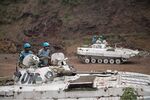 Last week was a grim one for the reputation of the United Nations. In the face of mounting evidence of a large-scale chemical weapons attack by the Syrian regime, and with more than one million children made refugees by the civil war, the U.N. Security Council responded with a statement of "serious concern." It is doubtful that this was much comfort to the victims and their families.
It is hardly the first time the international body dedicated to global peace and development has looked irrelevant in the face of crisis. But for all of those failures, alongside the corruption and byzantine bureaucracy of the organization, two recent academic studies suggest that adequately supported U.N. operations have often had a big role in promoting peace and stability—significantly reducing civilian deaths in conflict and helping to consolidate democracies. This suggests that the blame for the U.N.'s failures should be borne in large part by the countries that provide the authorization, troops, and funding for operations, not the organization itself.
There are 92,000 police and troops alongside 19,000 volunteers and civilian personnel currently engaged in 15 separate peacekeeping operations around the world. That includes operations with more than 8,000 troops in Sudan and South Sudan, Cote d'Ivoire, Lebanon, and Democratic Republic of Congo. U.N. peacekeeping operations have been complicit in no shortage of calamities over the years—from the failure to prevent genocide in Rwanda, through a massacre in Srebrenica and rapes in DR Congo, and on to the introduction of cholera in Haiti via U.N. forces. Most shamelessly, the organization has often resorted to stonewalling and inaction when it comes to compensating victims.
Despite these appalling cases, the U.N. has become increasingly central in the global effort to "to save succeeding generations from the scourge of war," the first aim of the United Nations charter. Multilateral peacekeeping operations cost a little over $7 billion—or less than half a percent of the global military budget. But research suggests they're having a significant impact on reducing global levels of violence. In an effort to assess the effectiveness of UN peacekeeping, Jacob Kathman of SUNY Buffalo, with Lisa Hultman at Uppsala University and Megan Shannon of Florida State University, analyzed (PDF) monthly data on the number and type of U.N. peacekeepers—alongside civilian deaths—from 1991 to 2008 in armed conflicts in Africa. Based on their sample, they find that an average of 106 civilians are killed in a given month in conflicts that lack UN presence. In places with a blue-helmet presence of at least 8,000—the size of the UN's larger operations—the expected number of civilian deaths per month drops to fewer than two.
"Peacekeeping successfully reduces civilian suffering if the UN commits larger numbers of appropriately tasked personnel to a conflict" the researchers conclude.  The relationship may not always be that simple—peacekeeping operations often ramp up only after the worst of the fighting has passed. Nonetheless, it does appear that a large U.N. presence can contain violence.
Kathman and colleagues point to Sierra Leone as an example. As violence increased in the late 1990s, the local UN observer mission called for greater support. An expanded mission was launched in 1999 and as troops arrived, violence declined. In separate research, Madhav Joshi of the University of Notre Dame suggests that U.N. peacekeeping operations may also help to support democracy building—sustaining peace and rights, even after missions have ended.
All of which suggests that the failings of U.N. peacekeeping operations are due in large part to the unwillingness of U.N. member countries—and in particular, the U.N. Security Council—to support operations aggressively enough. Again, the limited capacity of the UN to deal with other global challenges, from disease to global warming, is not just about the weaknesses of the institution—it is closely connected to its pathetic levels of funding. The U.N. family's donor budget for maintaining planetary public goods from climate to basic agricultural research to biodiversity amounts to about $3 billion a year, roughly the cost of a recently proposed street repair program for the City of Los Angeles, or what Americans spend partying on the Fourth of July.
While incompetence, inefficiency and corruption pose problems for the U.N., by far the biggest problem is incapacity. That's mostly the fault of short-sighted, parochial, and penny-pinching member states, not the staff and diplomats at U.N. headquarters in Turtle Bay.
Before it's here, it's on the Bloomberg Terminal.
LEARN MORE