The Lucky Break That Could Land Larry Summers at the Fed
By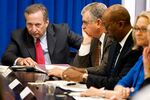 In a recent column, Bloomberg View's Al Hunt posited that Larry Summers's fate—should President Obama nominate him to succeed Federal Reserve Chairman Ben Bernanake—could hinge on his former Harvard colleague (and Massachusetts senator) Elizabeth Warren. Warren, like many Democrats, is no big fan. Along with 16 other Democratic senators, she signed a letter urging the president to nominate Janet Yellen instead. If he doesn't, Hunt thinks Warren will ultimately support his nomination and that her influence could be decisive.
I'm not convinced that Warren's support for Summers is a sure thing. She had no qualms about voting against Obama's choice for U.S. Trade Representative, Michael Froman, who, like Summers, is a protégé of former Treasury Secretary Robert Rubin and thus part of a crowd that Warren and many other liberals view with asperity.
But I do think that Summers, if he's nominated, will get a huge break from the Senate Democratic caucus, because, unlike the GOP caucus, it contains no serious presidential contenders. Why does that matter? Because presidential candidates are almost always captive to the passions of their party's base, and the liberal base of the Democratic Party loathes Summers. That would produce tremendous pressure to oppose him.
Consider, for a moment, the GOP caucus, where Senators Ted Cruz of Texas, Rand Paul of Kentucky, and Marco Rubio of Florida—all considered blue-chip prospects for the 2016 Republican nomination—have taken positions in vehement opposition to Obamacare, including passing a budget that doesn't fund the health-care law, even if that leads to a government shutdown. It may well be that each of these candidates believes this is a wise and necessary step that will boost their chance of winning the White House—even though many Republicans disagree. But even if they didn't believe this, the senators would have to pretend that they did to preserve and enhance their right-wing credibility.
The fact that Summers doesn't have three Democratic presidential hopefuls in the Senate probably means he'll have three more votes than he would have otherwise—and that may wind up being the deciding factor if he's nominated.
Before it's here, it's on the Bloomberg Terminal.
LEARN MORE