Start a Consulting Firm Instead of Retiring
By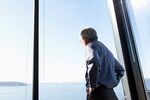 Question: I'm thinking about setting up a small consulting firm for my industry when I semi-retire next year. What is the market like, and what should I do in advance of starting this business?
Answer: The market for consultants in your field depends on current conditions in your industry and its near- and long-term outlook. If you're not familiar with where things stand there, educate yourself now while you have access to industry research through your employer.
In terms of the market for consulting in general, it is crowded and likely to become more crowded as Americans reach retirement age and the trend toward self-employment continues. It's "only going to increase in frequency as growing numbers of boomers realize that retirement is not what they thought it was going to be and they're either unprepared emotionally to leave the workplace or unprepared financially to support their lifestyle in retirement," says John P. Delmatoff, a business coach with PathFinder Coaching in Murietta, Calif.
In addition, the Affordable Care Act will help increase the number of self-employed American by 1.5 million next year, according to this brief from the Urban Institute and Georgetown University's Center on Health Insurance Reforms.
That means you will need to find a way to stand out from the pack, raise your profile in the industry, and realize that starting a new business takes long hours and hard work. "Brace yourself, because there's a big line in the sand between creating a paycheck and accepting a paycheck. Dissuade yourself about this semi-retirement concept now, or you won't give [your business] the absolute commitment it needs," says Mark Stevens, chief executive of Rye Brook (N.Y.) marketing and business advisory company MSCO and the author of Your Marketing Sucks.
The biggest shock that faces the newly self-employed tends to be the hours they have to spend on selling, says Scott Messer, chief executive of Philadelphia consulting company Sales Evolution. "Being a genius is not enough—you have to be able to sell work in order to avoid the peaks and troughs of the single-shingle consultant," he says. "If you're not well-versed and grounded in selling, you'll fail. If you don't know how to sell, take a course."
Here are some practical steps to take now:
• Determine how much startup money you'll need and how much annual revenue you'll have to generate from consulting. "I regularly caution clients not to choke the life out of a new enterprise by putting too much financial pressure on it, especially during the startup phase," Delmatoff says. "If possible, you should have adequate funds to live off of while you build the business up. That can take six months to two years."
• Find an accountant to help you pull together a budget that takes into account startup costs, self-employment taxes, and other unfamiliar expenses. "Pay off your credit cards and steal some pencils from your office," says Chris Barez-Brown, founder of business coaching company Upping Your Elvis.
• Incorporate as a subchapter S or LLC; obtain errors and omissions insurance and liability insurance; raise your profile by speaking, publishing, and referrals; and create a value proposition that explains how your clients will be better off after they hire you, writes Alan Weiss, president of Summit Consulting Group in East Greenwich, R.I., in an e-mail.
• Establish a business name; reserve a domain name; create a website or hire someone to do it; establish a professional e-mail address.
• Read some books on entrepreneurship, starting with Michael E. Gerber's classic, The E-Myth Revisited, and take a free or low-cost entrepreneurship course at your local college, Small Business Development Center, or online.
Here are some strategic steps to take now:
• Find out whether your current employer could continue to use your services on a contract basis after your retirement. "Many times, employers place high value on departing employees' past contributions, and I find that they will often entertain a consulting contract for several months or even a year or more," Delmatoff says.
• Identify industry organizations you might partner with to deliver your message and your services. For instance, a human resources consultant would be smart to join the Society for Human Resource Management, Stevens says. "Look for groups that have the credibility, credentials, and power you don't."
• Join at least one professional industry association that attracts your would-be clients, Messer says, and volunteer in some capacity. "Start becoming active now, so you'll have relationships" formed before you retire.
• Sketch out some worst-case scenarios and how you will cope with them. "You can never anticipate all the things that could go wrong, but it's good practice to battle-test at least some of the problems that could come up in your business," says Stevens.