Passport to an MBA: A Rugby Player Tackles HEC Paris
by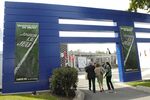 Passport to an MBA is an occasional series featuring interviews with MBA students from all over the world. The interviews were conducted at top business schools by Matt Symonds, chief editor of the B-school website MBA50.com and a Getting In guest blogger.
What value do MBA students gain from the many activities they can pursue outside the classroom? In a recent Graduate Management Admissions Council publication, Disrupt or Be Disrupted: A Blueprint for Change in Management Education, Daniel Feldman from the University of Georgia's Terry College of Business argues that the whirlwind of guest speakers, clubs, travel, social events, recruiting, and more should slow down. If students were provided with fewer options, which better align with the schools' values and their mission, he says, they would be more deeply engaged.
But not all students would agree. HEC Paris MBA student Emilie Flanagan is a case in point. During the 16 months of her business degree on the outskirts of the French capital, the Washington (D.C.)-born McGill graduate and international women's rugby player held a key role in organizing the 2013 MBA Tournament, the MBA world's version of the Olympics. Helping coordinate a three-day event that attracts more than 1,300 students from 14 other top schools was a chance for Flanagan to apply her classroom learning in team leadership, marketing, corporate sponsorship, and operations. The hands-on management approach also provided a valuable experience for her résumé as she considers a career in sports management.
What follows are edited excerpts of our interview two weeks before the tournament. Click here for a video of the complete interview.
Why choose Europe to do your MBA?
I did my undergraduate degree in Montreal, so I had a North American education, and I thought it would be a great complementary thing to have on your résumé to get a European-style business education. The course material is something you can take with you for the rest of your career. Some courses are very hands-on, while some are more theoretical. Classes such as organizational behavior look at issues of how to maintain or organize yourself around power, and offer very practical workshops.
Has there been a particular highlight of the program so far?
In the HEC Paris program there is something called the MBA Tournament. It's basically a big sports tournament that starts organizing in September of the year before. We run through campaigning and getting a team together, and then run the event itself. I'm leading the organization with two other students, and we have a team of 40 people, all of whom are colleagues and classmates. It has been a focus point during the MBA. It's a lot of work, but it's defintely a great experience in terms of hands-on business management.
Was there ever a moment when you asked yourself why you chose to do an MBA?
Definitely. There are a few panic moments in the beginning as you settle in. Coming back to school is definitely one of those "What am I doing?" moments, because you haven't been a student for about five years and you've got to teach yourself to learn again. That's a big challenge—I thought exams were over!
Where do you hope the MBA leads to next?
I'm exploring two different industries. After the MBA Tournament, I'm doing an internship in Paris in the oil and gas industry, so I'm looking at that potentially leading to corporate strategy in that sector. Or I'll go to sports. As an athlete myself I've always been passionate about the sports industry, so I might go back to the U.S. and join a sports agency or sports event management company.
Join the discussion on the Bloomberg Businessweek Business School Forum, visit us on Facebook, and follow @BWbschools on Twitter.
Before it's here, it's on the Bloomberg Terminal.
LEARN MORE