Party on, Hasbro: The Toymaker Launches a Funny or Die Game
By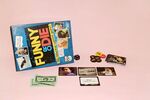 If there is any truth to the old saying, "Everyone's a comedian," Hasbro hopes to translate our misguided confidence into a lucrative party activity. The toy company behind such classics as Monopoly and Twister partnered with Will Ferrell's popular website and launched an official Funny or Die game last month.
"It was a very natural extension of our caption contest and a fun entry point for Funny or Die into the game world," says Patrick Starzan, Funny or Die's vice president of marketing.
The game's kind of like Mattel's Apples to Apples, but for irreverent adults. Using a set of cards containing photos and captions written by Funny or Die writers, the players compete to create the funniest photo-caption combination. At the end of each round, the players vote on a winner, who pockets the fake money (players "pay" to play each round).
In terms of real money, Hasbro declined to provide details on the deal. For years, the company has cited declining sales of traditional board games but the company's Chief Marketing Officer John Frascotti said during a recent shareholder call, "There's going to be continuing demand for face-to-face, physical, off-the-board gaming"—games that don't require moving pieces around a board. (Funny or Die, for instance, is played with cards and a die.) The toymaker's partnership with Funny or Die also could help it branch out beyond its heavily kid-oriented portfolio and attract some of the humor site's 20 million monthly visitors.
The Funny or Die game retails for $14.99. The question remains whether Will Ferrell will become a rogue pitchman.
Before it's here, it's on the Bloomberg Terminal.
LEARN MORE