Obama's Pay-for-College-Performance Plan Is Standard in Tennessee
By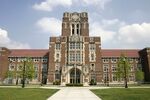 For a glimpse of what President Obama's proposed higher-education overhaul may look like if it ever becomes law, you may need to go no further than Tennessee. It's the pioneer of tying higher ed funding to how students complete courses and graduate rather than to how many students a school enrolls.
Tennessee first used performance-based funding in 1979, and the approach became popular around the country in the late 1990s and early 2000s. At the time, states used the approach to determine bonus funding rather than core appropriations. Tight budgets combined with problems in implementation led many states to eliminate the programs, according to a brief (pdf) from researchers at the University of Wisconsin-Madison. In the past several years, however, the approach has gained new interest, and now a dozen states use performance-based funding, with another two dozen considering a similar program, according to the National Council of State Legislatures.
Like other states, Tennessee's early efforts represented just a small portion of the state's higher-ed budget. Then, in 2010, Tennessee became the first state to tie higher-education funding completely to performance rather than enrollment. It wrangled with the questions the Obama administration will need to figure out about how to develop a system that encourages the type of performance and priorities policymakers want to reward.
After a series of meetings with the colleges, outside experts, and lawmakers, the state's Higher Education Commission narrowed the evaluations down to about a half-dozen key factors that are tailored to the goals of each college. Community colleges have different criteria than four-year institutions, and research institutions get points for the amount of research grants they've been awarded. To encourage schools to work with needy and nontraditional students, the system awards school a 40 percent bonus for the outcomes of adult or lower-income students who receive Pell Grants.
The early efforts by Tennessee and other states that used performance metrics to mete out bonuses didn't prove to make major changes to student outcomes, such as reducing dropout rates, according to a 2011 study (pdf) from Columbia University's Teachers College. The researchers noted that there's not yet enough data to evaluate the new, bigger efforts by Tennessee and a handful of others to make performance the dominant source of funding.
Regardless, as the trailblazer, Tennessee's model is bound to be influential. As the New England Board of Higher Education wrote (pdf) in 2011, "The Tennessee approach is a game-changer, and its success or failure should be evident in short order."
Before it's here, it's on the Bloomberg Terminal.
LEARN MORE