EU Said to Draft Gazprom Complaint as Putin Prepares G-20 Talks
Gaspard Sebag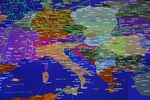 European Union regulators are drafting a formal antitrust complaint against OAO Gazprom, which supplies a quarter of the EU's natural gas, threatening to escalate a probe that's been attacked by Russian President Vladimir Putin.
Officials are working on a statement of objections against Russia's state-owned gas export monopoly, according to three people familiar with the probe, who asked not to be named because the status of the inquiry is confidential.
A complaint over allegations that the company abused its dominant position in the gas market may be sent by the end of the year if Gazprom and the EU fail to open settlement talks, said one of the people.
A showdown with Gazprom risks inflaming relations with Russia just as Putin prepares to host a meeting of leaders from the Group of 20 nations next month in St. Petersburg. Russian Foreign Minister Sergei Lavrov warned this month that if the European Union imposes antitrust sanctions against Gazprom, "it will be difficult for the company to operate in markets where it faces open discrimination."
The "case has the potential to seriously disturb EU-Russia relations," said Thijs Van de Graaf, a researcher at the Ghent Institute for International Studies in Belgium. "Gazprom is not a normal company in Russia. It does not only give account to its shareholders but also serves political goals."
Unfair Prices
Gazprom is suspected of imposing unfair prices in central and eastern Europe by linking what it charges for long-term natural gas contracts to oil prices and of preventing gas from being traded between countries, the EU said when it started the probe last September.
The EU investigation, which followed previous raids on the Moscow-based company and at least four of its customers, sparked criticism from Putin, who said that there would be "losses on both sides" if the issue isn't resolved.
Sergei Kupriyanov, a Gazprom spokesman, declined to comment as did Antoine Colombani, spokesman for the commission. Russia's Energy Ministry declined to comment, referring questions to Gazprom.
A statement of objections lays out regulators' case for the possible imposition of fines and other penalties. Companies found to violate EU competition rules can be fined as much as 10 percent of annual revenue. Intel Corp. received the largest fine for a single company, 1.06 billion euros ($1.4 billion) in 2009.
EU Meetings
Meetings between Gazprom and EU officials started before the summer and may continue as soon as next month, according to a fourth person familiar with the case. While the negotiations aren't settlement talks, they show that the company has decided to present arguments to the commission, said the person.
"Ordinary antitrust cases often result in a quiet, private settlement," said Van de Graaf, who specializes on global energy policy. "But, given the high stakes involved, it could well be that the case goes through the full antitrust process" including a statement of objections and possible fines.
Putin's stance on Gazprom is at odds with that of EU antitrust chief Joaquin Almunia, who's insisted the probe concerns the company and not the Russian state, which owns a more than 50 percent controlling stake.
Putin has signed a decree banning strategic companies such as Gazprom from disclosing information, disposing of assets or amending contracts without government approval.
Disputed Deliveries
Previous rifts with Russia in gas markets have led to scarce supplies and higher prices. A dispute between Russia and Ukraine disrupted deliveries into the EU for two weeks amid freezing temperatures in January 2009. It also drove up next-month gas prices in the U.K. as much as 15 percent. Three years earlier, Russia turned off all gas exports to Ukraine for three days, causing volumes to fall in the EU.
"The European gas market is hugely exposed to Russia and it's only going to get more exposed," said Trevor Sikorski, head of gas, coal and carbon at Energy Aspects Ltd. in London, an adviser to trading houses, utilities and governments. "The direction of pricing is going to be fundamentally driven by what the Russians do."
The price of Russian gas, linked to the price of oil, at the border with Germany, averaged $11.72 per million British thermal units over the last two years. The average cost of front-month U.K. gas averaged $9.70 per million Btu over the same period, making Russian gas 21 percent more expensive.
Russia's ability to set prices is growing as output from the North Sea drops, Asia pays near-record prices for LNG, and North African supplies are constrained by unstable politics and capacity limitations.
Renewable Boom
European utilities, whose profits are already being squeezed by the renewable energy boom, are seeking price concessions from Gazprom, arguing they overpaid by billions of euros after market rates and oil-indexed costs in long-term contracts diverged following the onset of the financial crisis.
Russia's role in Europe's gas market was demonstrated in March when Gazprom's exports to the U.K. jumped 40 percent from a year earlier as unseasonably cold weather depleted storage inventories, pushing up prices to a seven-year high. Gazprom has the capacity to increase production at will if the price is right, Vladimir Drebentsov, head of Russia and CIS economics at BP Plc, said at the Flame conference in Amsterdam in March.
The EU and Russia's gas relationship is one of interdependence, said Cillian O'Donoghue, an energy analyst at Fleishmann Hillard in Brussels, who previously worked at the commission's energy department. "They need our money and we need their gas," he said.
Before it's here, it's on the Bloomberg Terminal.
LEARN MORE