B-School Startups: Chefstro Brings Fine Dining Home
Geoff Gloeckler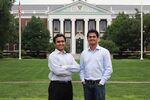 Editor's Note: This story is part of an occasional series that focuses on MBAs and undergraduate business students who developed their ideas or launched their businesses while still in school, as well as the many ways their schools helped them get the new ventures off the ground.
While their Harvard Business School classmates spent the summer working internships at investment banks and consulting firms, Rohan Pradhan and Dipish Rai were busy planning dinner parties.
In July, the pair launched Chefstro, a startup that Rai, 29, describes as a personal chef service. Here's how it works: Customers visit the website, select the kind of meal they're looking for (classic dinner party, cocktails, brunch), and choose a menu. Chefstro matches the customer with a chef. Then, on the desired date, the chef comes to the customer's home—ingredients in tow—and prepares the meal.
"We're bringing Boston's top chefs into people's homes at a reasonable cost," Rai says. "We're trying to fight the notion that a personal chef is a luxury that's only for a select few."
The idea for Chefstro came from observing their time-strapped classmates. "They love to host, but they don't have time to shop, cook, and clean," Rai says. "We started to dig into the business of creating a seamless experience, one that appealed to both chefs and customers."
Pradhan, 28, began to explore the feasibility of the startup in January in the first-year HBS course called Field Immersion Experiences for Leadership Development, or FIELD. In the course, 150 teams of six first-year MBAs are each given $5,000 to bring a business idea to market. At the end of the semester, the teams present their businesses to a panel of venture capitalists and entrepreneurs who judge them in areas like proven demand and traction. Of the 150 ventures that were presented to the panel, Chefstro finished in the top 10.
Partway through the semester, Pradhan and Rai (who was working on a separate startup in the FIELD course) decided that Chefstro was something they wanted to pursue full time. They both applied for—and were granted—fellowships through the business school's Rock Center for Entrepreneurship, as well as residencies at Harvard's Innovation Lab. When their first-year MBA studies were complete, the duo moved into the lab and turned their focus solely to Chefstro.
They spent the months leading up to launch amassing a roster of chefs, developing menus, and getting the IT platform in place. In that time, the innovation lab proved to be an invaluable resource, providing them with the in-kind support that early-stage ventures need, Pradhan says. The lab gave them exposure to entrepreneurs and other experts who were able to offer insight in areas like marketing, customer acquisition, and managing relationships.
They found that the best venue to test whether a chef could meet the standards they were seeking was the cramped kitchen in Pradhan's HBS apartment. "We call it Tiny Kitchen Trials," Pradhan says. "They have to be able to make a three-course meal from scratch in our kitchen. If they can do it there, they can do it anywhere."
The pair put any money that came from the fellowships straight into the business; all other funding came out of their own pockets. Chefstro was incorporated in June and officially launched on July 17.
Currently, Chefstro offers 20 menus that customers can choose from. Prices range from $30 to $100 per person, depending on the type of meal and the number of guests being served. For instance, if a customer is hosting a party for four and wants to serve the L'Exotique menu—first course: sweet corn bisque and lobster salad; second course: herb-roasted chicken breast with warm eggplant caponata, roasted onions, broccoli rabe, and basil oil; third course: macerated peaches and vanilla bean mascarpone cheese tart—the cost would be $75 per person. For a party of six, it would cost $65 per person. Pradhan estimates they've served more than 150 individuals so far.
With the fall semester at HBS quickly approaching, Rai and Pradhan are building a team that can help run the business while they're in school. They're also looking to expand to other markets. First up: New York. "We are selectively doing experiences there to get a better sense of the market," Rai says. "If all goes well, this will be our job when we graduate."
Join the discussion on the Bloomberg Businessweek Business School Forum, visit us on Facebook, and follow @BWbschools on Twitter.
Before it's here, it's on the Bloomberg Terminal.
LEARN MORE