A Quiet Debut for a Bigger Dreamliner
by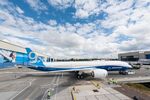 With little fanfare over the weekend, Boeing announced the birth of its newest 787 Dreamliner, the stretched-out version dubbed the 787-9. The new aircraft is 20 feet longer than the original 787-8 and can carry an additional 40 passengers up to 8,200 nautical miles, 300 more than its predecessor. The plane's first test flight is scheduled for later this year, and Air New Zealand is set to get the first 787-9 in the middle of next year.
Unlike the debut of the first Dreamliner—which got a Super Bowl-style launch party in July 2007, only to become mired in nightmarish delays—Boeing is taking a much more subdued approach to other versions of the plane. The 787-9 made its debut on a Saturday night, all but assuring that only the most dedicated airline watchers would notice. Despite the Dreamliner production problems and the battery-related fires that have plagued some airlines, Boeing has collected about 930 orders for the 787 family to date. The new plane remains one of the company's most popular models due to its advanced materials and operating costs that are roughly 20 percent lower than similarly sized airplanes.
Back in June, Boeing revealed details of a third, even larger Dreamliner variation, the 787-10, which will carry as many as 330 people up to 7,000 miles. That plane is expected to enter commercial service in 2018 and will be more than 38 feet longer than the 787-8.
United Airlines is the first North American customer for the 787-10 and the third-largest buyer of the model. It remains undecided which airline will be the formal "launch customer" for the plane, a modest distinction to the general public but one airlines market heavily for new service. Boeing has said that, so far, the 787-10 program has a "launch group" that have ordered the airplane, including lessors Air Lease Corp. and GE Capital Aviation Services, Singapore Airlines, and British Airways' parent, International Airlines Group.
Before it's here, it's on the Bloomberg Terminal.
LEARN MORE