pursuits
The Best (and Most Awkward) CEO Cameos in TV History
Eric Spitznagel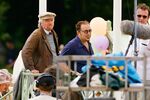 Mickey Drexler, the 69-year-old chief executive officer of J.Crew Group, is a big fan of AMC's Breaking Bad, the drama about meth kingpins in Albuquerque. He is such a big fan, in fact, that he scored a cameo in the celebrated show's final season. On this Sunday's episode, titled "Confessions," Drexler will appear as a customer at drug dealer Walter White's car wash.
The fashion executive is the latest in a long line of high-profile CEOs who've tried their hand at amateur thespianism, appearing in everything from hokey sitcoms to dramas to soaps.
Bill Gates, Microsoft chairman
Frasier (2001)
Fielding tech-support-level questions about Microsoft Windows from a live radio show's listeners is obviously way below Gates's pay grade. But that's what made his cameo in the 200th episode of Frasier, when he gleefully hijacks the protagonist's show, so delightfully weird. The scene culminates in Frasier calling the richest man in the world an "egomaniacal gasbag." The playful appearance coincided with the launch of Windows XP, just three years after Gates's abrasive testimony in the United States v. Microsoft Corporation antitrust case.
Richard Branson, Virgin Group CEO
Friends (1998)
Branson obviously loves the camera. He's made cameos in everything from TV (HBO's Entourage) to movies (Casino Royale, Superman Returns, Around the World in 80 Days). But we'll always remember him for a Friends episode in the late 1990s titled "The One With Ross's Wedding: Part 1," in which he played a street vendor selling Union Jack top hats outside Westminster Abbey. "All Londoners wear them," he insists. For those who grow weary of Branson's ham-fisted self-promotion, seeing him hawking street tchotchkes was a welcome change of pace.
Warren Buffett, Berkshire Hathaway CEO
The Office (2011)
All My Children (1992, 2008)
The Berkshire Hathaway CEO shows up at The Office's Dunder Mifflin headquarters in Scranton as a no-nonsense interview candidate for regional manager, the position once held by the inept Michael Scott (played by Steve Carell). Buffett delivers an admirable performance haggling for mileage ("gas ain't cheap, y'know") and long-distance phone calls. But The Office cameo was just his latest gig; he has appeared twice on the daytime soap opera All My Children, first in 1992 and again in 2008. (In both cases, he gave business advice to entrepreneur Erica Kane, played by Susan Lucci.) He reportedly earned about $700 for his last All My Children appearance, which goes to show: Don't quit your day job.
Lee Iacocca, Chrysler CEO
Miami Vice (1986)
There was nothing cooler in the 1980s than appearing on Miami Vice (for proof, see here). So it was only fitting that Iacocca, the gregarious tough-guy and tireless car pitchman, land a role himself. In an episode called "Sons and Lovers." Iacocca plays Park Commissioner Lido (which also happens to be Iacocca's birth name), who helps Crockett and Tubbs track down a Colombian drug lord. After identifying a shack where the culprit is likely hiding, Iacocca offers to join the fight. "Hey, if you need some help," he says, "I'm pretty good with a gun, too." One can't help but believe him.
Mark Dunkerley, Hawaiian Airlines CEO
Hawaii Five-0 (2012)
TV product placement can get complicated. What if your product—say, an airline—is featured in a less than flattering way? What if the plot involves a U.S. Marshall, escorting a prisoner to Hawaii aboard a Hawaiian Airlines flight, getting fatally stabbed during the journey? Well, that's why Hawaiian Airlines' president and CEO agreed to make a cameo as a very cooperative and law-abiding Hawaiian Airlines' president and CEO. "Something never happened like this," Dunkerly explains to the Hawaii task force. That's called having your cake and eating it too.
Jack Welch, former General Electric chairman and CEO
30 Rock (2010)
For a non-actor, Jack Welch accomplished quite a feat when he appeared on 30 Rock and proved to be funnier than Alec Baldwin. In an episode called "Future Husband," Jack Donaghy (played by Baldwin) visits Welch to find out if General Electric is really being sold to "Kabletown." Welch delivers the harsh truth: The sale is inevitable. "If you need to pass some eye water," Welch says, "I'll be happy to go out and get you some weakness tissues."
Mark Zuckerberg, Facebook CEO
The Simpsons (2010)
Sure, Zuckerberg's awkward Saturday Night Live cameo from 2011, when he confronted Social Network actor Jesse Eisenberg, showed that the Facebook founder could laugh at himself. But in his Simpsons cameo in 2010, he had much better material. Once again playing himself, Zuckerberg is visited by Lisa Simpson at an entrepreneurial expo. She wants to demonstrate the importance of an education to bad-boy Nelson. Zuckerberg disagrees and reminds Lisa that he's a Harvard dropout. "I'll get the best kind of degree," he says. "Honorary, baby!"
King Abdullah of Jordan
Star Trek: Voyager (1996)
OK, so he's not technically a CEO, but King Abdullah is a Star Trek superfan and major investor in a new Star Trek theme park, Red Sea Astrarium, slated to open on the Gulf of Aqaba in 2014. Back when he was just a prince, Abdullah appeared as an uncredited extra in an episode of Star Trek: Voyager. (You can't miss him: He's the one in the green uniform with no lines.) "Take away the title and the trappings," said the show's executive producer Jeri Taylor, "and at the core you have a Star Trek fan."
Before it's here, it's on the Bloomberg Terminal.
LEARN MORE