In Search of the Great Rotation
by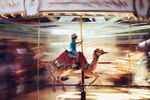 It sounds compelling enough: Much of the $1.7 trillion that poured into bond funds and exchange-traded funds since the beginning of 2008 is now about to make a
U-turn into equities, in what Wall Street is labeling a "Great Rotation."
Indeed, U.S. bond funds saw $30.3 billion in redemptions this month through Aug. 19—the third-highest on record, according to a report this week from TrimTabs Investment Research. While the Standard & Poor's 500-stock index is up 16 percent this year, dollar-denominated corporate and government bonds are down 3.4 percent, according to Bank of America Merrill Lynch index data, the biggest drop for comparable periods since 1981. "These outflows mark an enormous shift for the bond world," TrimTabs said in its report. "A vicious circle of losses and redemptions as the bond binge unwinds could get nasty."
The thing is, there hasn't been so much of an actual mass rotation into shares. After putting a record $39.2 billion into U.S. stock funds in July, investors yanked $11.3 billion through Aug. 19; the category is merely on track to show its first year of net gains since 2007. "All that the numbers really show is investors tip-toeing out of the safety of bond shores into equity waters, and not, so far, any great rotation of assets," writes adviser Raul Elizalde on Morningstar.com.
Not that any of this has stopped Wall Street from constantly riffing on the who-what-when-where of the elusive Great Rotation. It's practically become a summer pastime.
Start with Bank of America Merrill Lynch, whose strategists coined the phrase. The brokerage has apparently convinced its retail clients to rotate greatly, as it were: This year they've poured $23 billion into equity funds, while redeeming $21 billion from funds invested in bonds and cash. BofA hedge fund and institutional clients, however, have not followed suit. Even so, Michael Hartnett, the bank's chief investment strategist, declared on Aug. 15 that the idea of a Great Rotation has moved from a controversial view to consensus.
JPMorgan Chase's Jan Loeys wrote on Aug. 16 that while there's no rotation to equities from bonds under way in Europe, there is one in the U.S. He argued that the bond market's rout "isn't even at half time."
Citigroup analysts Hans Lorenzen and Matt King could not resist the urge to call the Great Rotation a "Great Vacation" of temporarily moved-around money.
Pimco, the bond giant most invested in a rotation not happening, argues that it's hard to see retirement-bound investors—no small constituency—espouse the volatility of stocks. "We wouldn't expect a meaningful rotation for older Americans," said market strategist Tony Crescenzi.
Société Générale sees a Great Rotation—only one to European equities and out of U.S., Japanese, and emerging-market stocks. "European equities should enjoy net inflows of $100 billion soon," the bank said in a Thursday research note.
In a detailed piece entitled "The Great Rotation: Asset Shortages and the Aggregate U.S. Asset Portfolio," the blog Philosophical Economics argues that the whole exercise of calling a Great Rotation is bunk:
"Investors tend to describe the Great Rotation as a movement of money and people: money 'comes out of' bonds, and 'goes into' stocks. … Investors 'leave' the bond market and 'enter' the stock market. We sort-of know what investors are trying to say when they say this, but the description is wrong. … Investors cannot leave or enter any asset class. All they can do is fight with each other over who will hold each asset class, offering to exchange money at various rates in exchange for the privilege of holding something else. The consequence of shifting preferences and exchange rates may be a destruction or creation of wealth in various places, but it is never a 'movement' of wealth."
This of course still leaves the door open to more mass selling of bond funds, a category that investors have binged on in record proportions in recent years without necessarily appreciating the risks. According to a recent survey by Edward Jones, 63 percent of Americans don't know how rising interest rates will impact investment portfolios; one-third of respondents aged 18 to 34 replied they have "no idea" how interest rate changes will impact a portfolio.
As Josh Brown, the Reformed Broker, writes, with the bond market getting hit by higher rates, "they're learning the hard way right now, it would appear. Just wait until those quarterly statements arrive and detail the losses of their 'safe' bond funds."
Do they then rotate, vacate, or just plain hyperventilate?
Before it's here, it's on the Bloomberg Terminal.
LEARN MORE